Toekomstbestendig renoveren
Keywords:
housing, renovation, future-proof renovation, sustainability
Abstract
Homes are renovated a number of times during their lifespan. Although we can regard each of these renovations as new, it is more prudent to implement a future-proof solution to renovation. Current renovation practice focuses on renovating to meet current demand. Many of the renovations are still extremely labour intensive and occur on site. This results in solutions to ensure that the house once again meets the required standards in the short term. These standards will continue to change in the future, however. Our homes will continually require renovation. The question is how we can arrive at solutions that do not impede these future renovations, and implement future-proof solutions that can be applied to a large percentage of housing stock.
This study defines future-proof renovation as follows: "Future-proof renovation is renovation that at the very least incorporates solutions that do not impede future renovations and preferably increase opportunities for renovation".
The purpose of this study is to gain an insight into how future-proof renovation solutions are for homes built between 1975 and 1991 that are currently being carried out or offered on the market. The study adopts a primarily architectural viewpoint to examine the hypothesis that we first need to be aware of what is architecturally possible and relevant, before it makes sense to answer any further questions.
The key question that this study asks is:
What perspective do available renovation concepts offer housing with respect to futureproof renovation?
In order to answer this question, this study focuses on developing and applying a method of analysis for these renovation solutions in order to identify the distinctive characteristics that increase the future sustainability of renovation solutions and to evaluate the usability of already developed future-proof renovation solutions for this part of the housing stock. This included seeking inspiration from housing designed using the principles of the Foundation for Architects' Research (SAR). These homes are constructed according to the support and infill system (SDI homes). This makes it possible to carry out renovations to the infill while the supporting structure remains unchanged. The occupants can then change the infill continually.
References
AGUILAR, F.J., 1967. Scanning the Business Environment. New York: Macmillan.
ALBRECHT, J., 2009. Energietransitie: sneller naar een groener system. Brussel: Academic and Scientific Publishers nv.
ARGE, K., 2005. Adaptable office buildings: theory and practice. Facilities, Vol. 23 Nos 3/4, pp. 119-127. BAKENS, W.P.J., MEIJS, ing. L.J.J. van der, PEROTTI, L., VERBERG-WESTERA, A., BAX, M.F.Th., SEIJP, F. van de,
SMIT, P.J., 1978. SAR 65 zoals gewoonlijk. Een evaluatie van de praktijktoepassing van de sar65-methode. 's Gravenhage: Centrale directie van de Volkshuisvesting.
BEMIS, A.F., 1933. The Evolving House, Volume III: Rational Design. Cambridge, Massachusetts: The technology press Massachusetts Institute of Technology.
BOEKHOLT, J.T., THIJSSEN, A.P., DINJENS, P.J.M., 1974. Denken in varianten: het methodisch ontwerpen van dragers. Alphen a/d Rijn: Samsom.
BOSMA, K., HOOGSTRATEN, D.V., VOS, M., 2000. Housing for the millions: John Habraken and the SAR (1960- 2000). Rotterdam: NAi publishers.
BRAUNGART, M., MCDONOUGH, W., 2002. Cradle to Cradle: Remaking The Way We Make Things. New York: North Point Press, a division of Farrar, Straus & Giroux.
BRUNDTLAND, G.H., 1987. World commission on environment and development: Our common future. Oxford: Oxford University Press.
CELLUCCI, C., DI SIVO, M., 2015. The Flexible Housing: Criteria and Strategies for Implementation of the Flexibility. Journal of Civil Engineering and Architecture 9, pp. 845-852.
CRONE, J., CUSTERS, J., VOS, H., 2007. Leren Door Demonstreren: De Oogst Van Zeven Jaar Industrieel, Flexibel En Demontabel Bouwen. Rotterdam: SEV realisatie.
CUPERUS, Y.J., KAPTEIJNS, J.H.M., 1991. Niveaugericht beheer in de naoorlogse wijken: Een open bouwen studie in Den Haag Zuidwest. Publikatieburo Bouwkunde: Delft.
DOUGLAS, J., 2006. Building Adaptation. Oxford: Butterworth-Heinemann Ltd. DUBBELING, D., 2014. TCO. Bouwmarkt. sept 2014. Delft: BIM Media.
ELK, R.S.F.J. van, PRIEMUS, H., 1970. Niet-traditionele woningbouwmethoden in Nederland. Alphen a/d Rijn: Samsom.
FERREIRA, M., ALMEIDA, M., 2015. Benefit from energy related building renovations beyond costs, energy and emissions, 6th International Building Physics Conference, IBPC 2015.
FLANAGAN, R.,TATE, B., 1997. Cost Control in Building Design. London: Blackwell Science. FLAPPER, H., 2011. Jellema deel 12a Uitvoeren - De techniek. Zutphen: ThiemeMeulenhoff.
FAHEY, L., KING, W.R., NARAYANAN, V.K., 1981. Environmental Scanning and Forecasting in Strategic Planning - The State of the Art. Long range planning, Vol. 14, issue 1, pag. 32-39. Amsterdam: Elsevier.
GANN, D.M., BARLOW, J., 1996. Flexibility in building use: the technical feasibility of converting redundant offices into flats. Construction Management and Economics, Vol. 14, No. 1, pp. 55-66.
GREDEN, L., 2005. Flexibility in Building Design: A Real Options Approach and Valuation Methodology to Address Risk. pp. 5-16, 20, 28, 49, 62, 89, 215, 216. Cambridge, MA: Massachusetts Institute of Technology.
GROAT, L., WANG, D., 2002. Architectural Research Methods. New York, NY: John Wiley & Sons, Inc. HABRAKEN, N.J., 1961. De dragers en de mensen: het einde van de massawoningbouw. 1e dr edn. Amsterdam: Scheltema & Holkema.
HASLINGHUIS, E.J., HANSE, H., 2005. Bouwkundige termen. Leiden: Primavera Pers.
HASSLER, U., KOHLER, N., 2014. Resilience in the built environment. Building Research & Information, 42:2, pp. 119-129, DOI: 10.1080/09613218.2014.873593. Abingdon: Taylor & Francis.
HUIJBREGTS, P., 2010. Conceptueel bouwen. Boxtel: Aeneas.
ISREALSSON, N., HANSSON, B., 2009. Factors influencing flexibility in buildings. Structural Survey, Vol. 27 Iss: 2, pp.138-147.
JENKINS, D.P., PATIDAR, S., SIMPSON, S.A., 2015. Quantifying Change in Buildings in a Future Climate and Their Effect on Energy Systems. Edinburgh: Centre of Excellence in Sustainable Building Design, School of Energy, Geoscience, Infrastructure and Society, Heriot-Watt University.
KAPTEIJNS, J.H.M., 1978. Experimenteren in de woningbouw, projekt Molenvliet, Papendrecht EX 74-208. 's Gravenhage: Ministerie van Volkshuisvesting en Ruimtelijke Ordening.
KAPTEIJNS, J.H.M., 1989. Open bouwen buurtvernieuwing. Delft: Publicatieburo Bouwkunde.
KINCAID, D., 2000. Adaptability potentials for buildings and infrastructure in sustainable cities. Facilities, Vol. 18 Nos 3/4, pp. 155-161.
KOHLER, N., HASSLER, U., 2002. The building stock as a research object. Building Research & Information, Vol. 30 No. 4, pp. 226-236.
KOPPEN, C.W.J. van, 1979. De mogelijke betekenis van zonne-energie voor de mondiale energievoorziening Klimaatbeheersing, 8(10), pag. 547-556.
KOSTER, E., 1992. SAR-Lunetten: mislukte flexibiliteit. Architectuur en Bouwen, jaargang 8, nummer 2, pag. 18- 19.
KROMHOUT, S., 2013. Woonlasten van huurders: huur- en energielasten in de gereguleerde huursector. Amsterdam: RIGO Research en Advies BV.
LICHTENBERG,J.N.N.,2004. Slimbouwen, een herbezinning op bouwen, een strategie voor productontwikkeling. Intreerede 7 mei 2004. Eindhoven. Universiteit Eindhoven.
LICHTENBERG, J., 2005. Slimbouwen. Boxtel: Aeneas.
LICHTENBERG,J.J.N., 2010. Bouwdossier deel 1, p.20-23. Het advies. Thermische en akoestische verbetering. BouwIQ.
LICHTENBERG, J.J.N., 2016. De diffusie van Slimbouwen. Afscheidsrede van prof.dr.ir. Jos lichtenberg. Eindhoven: TU Eindhoven.
LIEBREGTS, M., BERGEN, Y. van, 2011. Manifest Renovatievisie 2050. Boxtel: Aeneas.
LINDEN, A.C. van der, HAM, E.R. van den, 2015. Feiten en fabels van na-isoleren van spouwmuren. Utrecht: Milieu Centraal.
MANEWA, A., SIRIWARDENA, M., ROSS, A., MADANAYAKE, U., 2016. Adaptable buildings for sustainable built environment. Built Environment Project and Asset Management, Vol. 6 Iss: 2, pp. 139-158.
MARISSING, E. van, 2008. Buurten bij beleidsmakers – Stedelijke beleidsprocessen, bewonersparticipatie en sociale cohesie in vroeg-naoorlogse stadswijken in Nederland. Utrecht: A-D Druk b.v., Zeist.
Ministerie van VROM, 2010. Dossier Duurzaam Bouwen en Verbouwen, overzicht strategieën voor duurzaam bouwen 4.
MOVAREK, J., 1996. Preventing future shock in today's buildings. Consulting-Specifying Engineer, Vol.20 No.5, pp. 28-32.
MULDER, G., KOOPS, O., KAMPHUIS, V., WILLEMS, M., VOS-EFTING, S. de, DONKERVOORT, R., DIJKMANS, T., 2015. Vervangende nieuwbouw. Delft: TNO.
NEN 2660, 1996. Ordeningsregels voor gegevens in de bouw. Termen, definities en algemene regels. Nederlands Normalisatie Instituut.
NEN 2574, 1993. Tekeningen in de bouw, Indelingen van gegevens op tekeningen voor gebouwen. Nederlands Normalisatie Instituut.
NEN 2767, 2016. Conditiemeting gebouwde omgeving - Deel 1: Methodiek. Nederlands Normalisatie Instituut.
NUNEN, H. van, 2010. Assessment of the Sustainability of Flexible building. Boxtel: Aeneas.
NUSSELDER, E.J., VEN, H. van de, HAAS, M., DULSKI, B., 2011. Handboek duurzame monumentenzorg. Rotterdam: SBR.
PIJPERS, I.R., WOUDE, D.H.J., 2004. Jellema deel 1 Bouwnijverheid. Zutphen: ThiemeMeulenhoff. PINKSTER, H., 2012. Woordenboek Latijn/Nederlands. Amsterdam: Amsterdam University Press.
PIZAM, A., MANSFIELD, Y., 2009. Consumer Behaviour in Travel and Tourism. New York: Howarth Hospitality Press.
PRIEMUS, H., 1969. Een klein beetje inspraak. 's-Gravenhage: Staatsuitgeverij.
PROVENIERS, A.G.W.J., CRIJNS, H., ELDONK, J.P.M.V., FASSBINDER, H., 1989. Historische experimenten met flexibele bouwmethoden. Eindhoven: Werkgroep Fundamentele Grondslagen Open Bouwwijze TUE/BRB. QUISPEL, E., BAUSCH, R., 2011. Leidraad Green Lease. Utrecht: Agentschap.nl.
RANDEN, A. van, 1988. De Bouw in de Knoop. Delft: Delftse Universitaire Pers.
RAU, T., OBERHUBER, S., 2016. Material matters. Het alternatief voor onze roofbouwmaatschappij. Haarlem: Bertram+De Leeuw Uitgevers BV.
RODERS, M.J., 2003. Samenvatting symposium; IFD BOUWEN in Japan, Amerika en Europa. Eindhoven: TU Eindhoven.
RIDDER, H. de, 2015. LEGOlisering van de bouw. Haarlem: Maurits Groen.mgmc.
RWS en RIVM, 2006. Beleidsverkenning circulaire economie in de bouw. Cijfers zijn indicatief op basis van Hofstra et al (2006), Scenariostudie BSA-granulaten, aanbod en afzet van 2005 tot 2015.
SCHÖN, D.A., 1983. The reflective practitioner: How professionals think in action. (Vol. 5126). New York: Basic Books.
SER, 2013. Energieakkoord voor duurzame groei. Den Haag: SER.
STRAUB, A., 2001. Technisch beheer door woningcorporaties in de 21e eeuw. Delft: Delft University Print. SWINKELS, C., 1977. SAR-moduul woningen te Papendrecht. Inspraak als variaties op een vastgesteld thema. De Architect, nummer 10, pag. 68-73.
THOMAS, P.S., 1974. Environmental Analysis for Corporate Planning. Business Horizons. The Journal of the Kelley School of Business, Indiana University. Vol. 17, issue 5, pp. 27-38. Amsterdam: Elsevier.
THOMSEN, A., FLIER, K. van der, 2009. Replacement or renovation of dwellings: the relevance of a more sustainable approach. Building Research & Information 37(5-6), pp. 649-659.
THOMSEN, A., WESTRA, H., 1986. Inleiding verbetering en vervanging woningvoorraad. Delft: TU Delft. THOMSEN, A., BIERMAN, M., OTTER, H. den, BODEWES, W., LINSSEN, M., VAL, R., VLIET, G. van, 1997. Duurzaam woningbeheer. Het herbergend vermogen van de woningvoorraad. Delft: TU Delft.
TRACHTE, S., DEHERDE, A., 2010. Environmental Impact Assessment (EIA). Architecture et Climat, Belgium. TWIJNSTRA, A.D., 1980. De organisatie van het bouwproces: een praktische handleiding over de organisatie bij complexe nieuwbouw voor opdrachtgevers, bouwpartners en het hoger onderwijs. Alphen aan den Rijn: Samson.
VERSCHUREN, P.J.M., 2009. De probleemstelling voor een onderzoek. Houten: Het Spectrum.
VISSCHER, H., SARTORI, I., DASCALAKI, E., 2016. Towards an energy efficient European housing stock: Monitoring, mapping and modelling retrofitting processes. Energy and Buildings, ISSN: 0378-7788, Vol. 132, pp. 1-3.
VREEZE, N. de, 1993. Woningbouw, Inspiratie & ambities: Kwalitatieve grondslagen van de sociale woningbouw. Amsterdam: Nationale Woningraad.
WACHSMANN, K., 1959. Wendepunkt im Bauen. Stuttgart: Deutsche Verlags-Anstalt.
WENTZEL, P.L., RIP, J.J., 2005. Jellema deel 10 Ontwerpen. Zutphen: ThiemeMeulenhoff.
WERF, E. van der, 2011. Bewonersbelangen bij renovatie in bewoonde staat. Afstudeerrapport TU Delft.
WERF, F. van der, 1993. Open ontwerpen. Rotterdam: Uitgeverij 010.
WERKGROEP OBOM, 1989. Bouwen voor de toekomst is kiezen voor verandering. Delft: Brochure t.g.v. het Sym- posium van IOP-bouw in april 1989.
WIJNGAART, R. van den, FOLKERT, R., MIDDELKOOP, M., 2014. Op weg naar een klimaatneutrale woningvoorraad in 2050. Achtergronden en uitgebreide resultaten. Den Haag: PBL.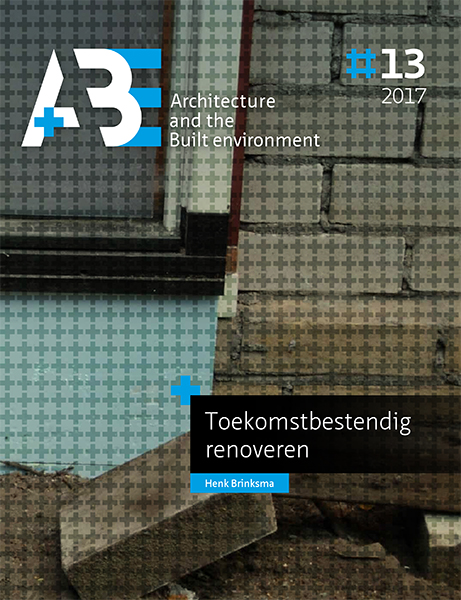 Downloads
Section
Book (Full version)