Visual Vertigo, Phantasmagoric Physiognomies: Joseph Roth and Walter Benjamin on the Visual Experience of Architecture
Abstract
This paper scrutinises Benjamin's interest in the urban fabric of nineteenth century Paris, and compares it to contemporary writings on Paris and on (more generally) new forms of urbanism in the journalistic work of Joseph Roth. It argues that both authors come to terms with the modern city through a shared set of observations and concepts, particularly the concepts of 'expressionism', 'physiognomy', and 'phantasmagoria'. The paper clarifies how Roth and other writers in (or immediately before) the 1920s developed such concepts, and how Benjamin's The Arcades Project builds on these writers. It shows that Benjamin's specific contribution to this body of literature is the invention of a secular mythology, with a clear application to architecture in Benjamin's focus on the 'boundless interiorisation' of glass and iron construction. The paper concludes that Benjamin's contribution to architecture is considerable when compared to the materialist orientation of his main sources in The Arcades Project (especially Boetticher and Giedion), but that the purported improvements on Benjamin's distinguished predecessors of architectural non-materialism are by comparison less impressive.
References
Erika Bauer, review notice of Joseph Roth, Wandering Jews (English translation by Michael Hofmann, Norton & Company 2001), dated August 2, 2005. Retrieved 25 June 2015 on amazon.com.
Walter Benjamin, Kleine Prosa. Baudelaire-Übertragungen (Suhrkamp: Frankfurt/Main 1972).
Walter Benjamin, Aufsätze, Essays, Vorträge. Band II.2 (Suhrkamp: Frankfurt/Main 1977).
Walter Benjamin, Illuminationen. Ausgewählte Schriften(Suhrkamp: Frankfurt/Main 1977).
Walter Benjamin, Das Passagen-Werk, ed. Rolf Tiedemann (Suhrkamp: Frankfurt/Main 1982).
Walter Benjamin, Fragmente vermischten Inhalts. Autobiographische Schriften (Suhrkamp: Frankfurt/Main 1985).
Daniela Bohde, Kunstgeschichte als physiognomische Wissenschaft. Kritik einer Denkfigur der 1920er bis 1940 Jahre (Akademie Verlag: Berlin 2012).
Jean Louis Cohen, 'Introduction', in Le Corbusier, Toward an Architecture (Getty Publications: Los Angeles 2008).
Jean-Louis Cohen, The Future of Architecture Since 1889 (Phaidon: London 2012).
Stefan Diebitz, Rezension Bohde, 27 Dec 2012, Portal der Kunstgeschichte. Available online at portalkunstgeschichte.de
Anne-Marie Fèvre, 'A Bourdeaux, un pont-boulevard pour 2018', Liberation 19 December 2013 (online edition at next.liberation.fr, retrieved June 22, 2015).
Michel Foucault, L'ordre du discours (Gallimard: Paris 1971).
Sigfried Gidieon, Bauen in Frankfreich, Bauen in Eisen, Bauen in Eisenbeton (Klinkhardt & Biermann, Leipzig 1928).
Robert Grant, 'Music, Metaphor, and Society: Some thoughts on Scruton', Royal Institute of Philosophy Supplement 71 (2012), 177-207.
Adolf Hildebrand, Das Problem der Form in der bildenden Kunst (Heitz & Mündel: Strassburg 1893).
Mari Hvattum, Gottfried Semper and the Question of Historicism (Cambridge University Press: Cambridge 2004).
Alexander Kluge and Oskar Negt, Geschichte und Eigensinn (Volume 1, Enstehung der industriellen Disziplin aus Trennung und Enteignung), orig. 1972, re-issued in 1993 (Suhrkamp: Frankfurt/Main)
Alexander Kluge, Die Lücke, die der Teufel läßt, Suhrkamp (Frankfurt/Main), 2003, 890-891, with 891n13).
Nadir Lahiji, 'Architecture under the gaze of photography: Benjamin's actuality and consequences', in Gevork Hartoonian (ed.), Walter Benjamin and Architecture (Routledge: Abingdon and New York 2010, 75-92).
Vittorio Lampugnani et. al. (ed.), Von der Stadt der Aufklärung zur Metropole des industriellen Zeitalters. Anthologie zum Städtebau, 2 volumes (Gebrüder Mann Verlag: Berlin 2008).
Johann Caspar Lavater, Von der Physiognomik (Weidmanns Erben: Leipzig 1772).
Harry Francis Mallgrave, Gottfried Semper. Architect of the Nineteenth Century (Yale University Press 1996).
Harry Francis Mallgrave, 'Semper's legacy', in Henrik Karge (ed.), Gottfried Semper. Dresden und Europa (2004).
Detlef Mertins, 'Walter Benjamin and the Tectonic Unconscious: Using Architecture as Optical Instrument', in Alex Coles (ed.), The Optic of Walter Benjamin (London: Black Dog Publishing, 1999, 196-221).
John Onians, Bearers of Meaning (Princeton University Press: Princeton, N.J. 1988).
Jean-Michiel Palmier, Le chiffonier, l'Ange et le Petit Bossu. Esthétique et politique chez Walter Benjamin (Éditions Klincksieck: Paris 2006); translated by Florent Perrier as Walter Benjamin: Lumpensammler, Engel, and bucklicht Männlein (Suhrkamp: Frankfurt/Main 2009).
Alina Payne, The Architectural Treatisein the Italian Renaissance (Cambridge University Press: Cambridge 1999)
Alina Payne, 'Between giudizio and auctoritas: Vitruvius' decor and its Progeny in Sixteenth-century Italian Architectural Theory', PhD Thesis, Toronto 1992.
Alina Payne, 'Living Stones, Crying Walls: The Dangers of Enlivenement in Architecture from Renaissance putti to Warburg's Nachleben', in: Caroline van Eck et. al. (eds.), The Secret Lives of Artworks. Exploring the Boundaries between Art and Life (Leiden University Press: Leiden 2014, 308-339).
Andrej Radman, Gibsonim: Ecologies of Architecture (TU Delft Doctoral Thesis, 2012).
Joseph Roth, Juden auf Wanderschaft (Die Schmiede: Berlin 1927; reprinted Kippenheuer & Witsch: Cologne 1985).
Joseph Roth, Panoptikum: Gestalten und Kulissen (Knorr und Hirth: Munich 1930; repr. Allert de Lange: Amsterdam 1976).
Joseph Roth, Das Journalistische Werk ['JW'], 3 vols. ed. Klaus Westermann (Kippenheuer & Witsch: Cologne 1989-1991).
Joseph Rykwert, The Dancing Column: On Order in Architecture (MIT Press: Cambridge, MA 1996).
Karl Friedrich Schinkel, 'Gedanken und Bemerkungen über Kunst im Allgemeinen', posthumously published as part of his 1863 Nachlass; reprinted in Reich-Ranicki, Marcel (ed.), Die Deutsche Literatur. Der Kanon. Essays. Band 1 (Insel Verlag: Frankfurt/Main und Leipzig 2006, 597-623).
Roger Scruton, 'Palpitating Stones', London Review of Books 19.7 (1997), 13.
Gottfried Semper, Der Stil in den technischen und tektonischen Künsten (Friedrich Bruckmann: Munich 1860, 1863), two volumes.
Gottfried Semper, Kleine Schriften, ed. Manfred and Hans Semper (W. Spemann: Berlin/Stuttgart 1884).
Stéphane Symons, Walter Benjamin: Presence of Mind, Failure to Comprehend (Koninklijke Brill NV: Leiden 2013).
Georges Teyssot, 'Traumhaus. L'intérieur comme innervation du collectif' (in Spielraum: Walter Benjamin et l'architecture, ed. Libero Andreotti, Paris: Éditions de La Villette, 2011, 21-49); revised and translated as 'The Dream house', in: Teyssot, A Typology of Everday Objects (MIT Press: Cambridge, MA 2013, 83-118).
Winfried Wenninghaus, 'On the 'Vital Significance' of Kitsch: Walter Benjamin's Politics of 'Bad Taste'', in Andrew Benjamin and Charles Rice (eds.), Walter Benjamin and the Architecture of Modernity (re.press: Melbourne 2009, 39-58).
Ludwig Wittgenstein, Philosophische Untersuchungen, translated by Elizabeth Anscombe as Philosophical Investigations (Basil Blackwell: Oxford 1953, reissued 1986).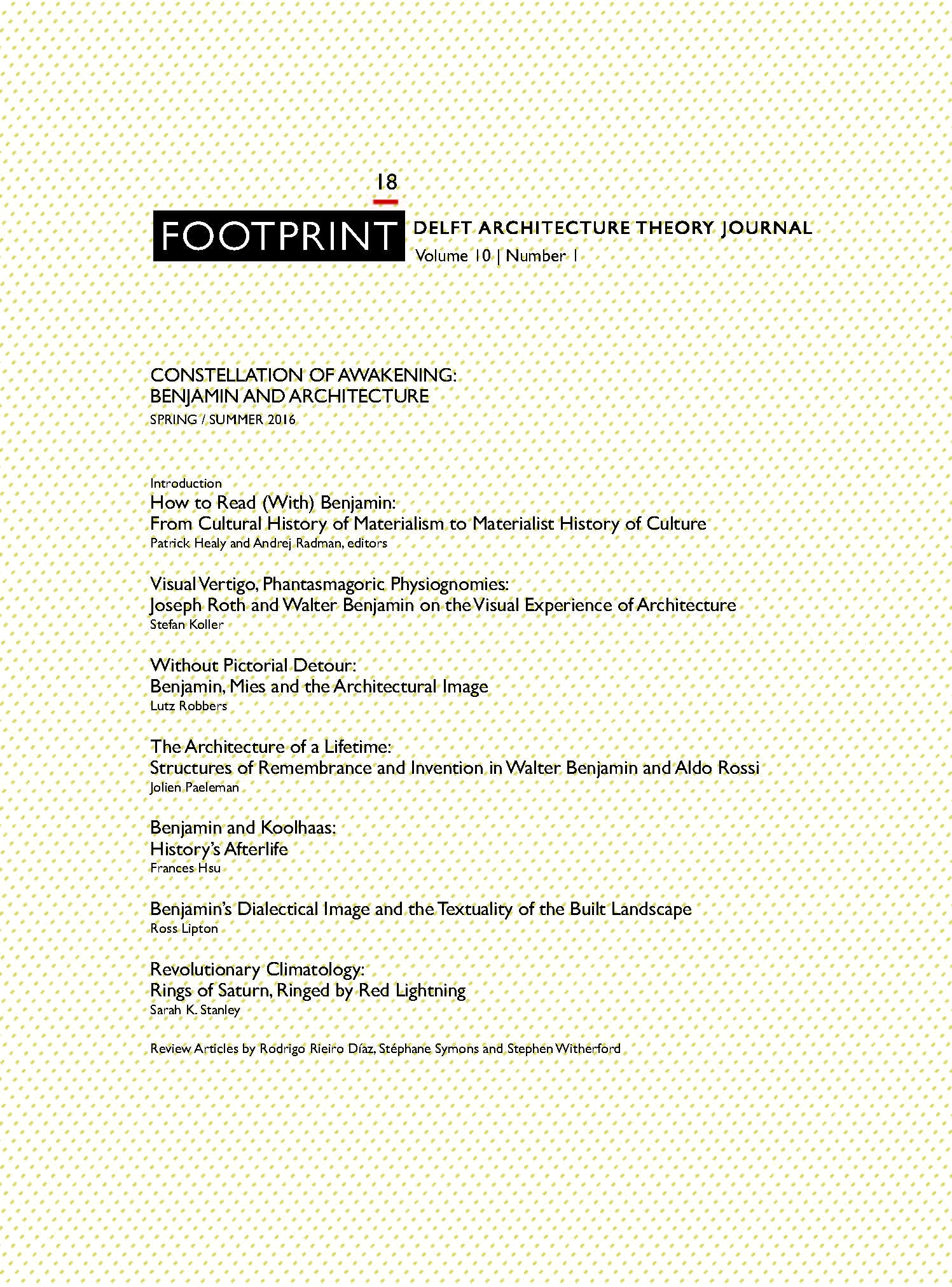 Downloads
License
Authors retain copyright and grant the journal right of first publication with the work simultaneously licensed under a Creative Commons Attribution License that allows others to share the work with an acknowledgement of the work's authorship and initial publication in this journal.
Authors are able to enter into separate, additional contractual arrangements for the non-exclusive distribution of the journal's published version of the work (e.g., post it to an institutional repository or publish it in a book), with an acknowledgement of its initial publication in this journal.