Documenta Urbana Kassel
Hinrich Baller & Partner et al.
Abstract
The experimental residential area known as Documenta Urbana arose in the context of Documenta, the contemporary art exhibition that began in Kassel in 1955, and now takes place once every five years. Documenta Urbana was ultimately not part of the programme of Documenta 7 (1982), but that made it no less topical. The programme for the neighbourhood came about against the backdrop of criticism of post-war, large-scale residential architecture as well as the later sprawling low-rise neighbourhoods, and the exodus from the city. The purpose of Documenta Urbana was to show, in a time of increased prosperity and a concurrent increase in leisure time, a model for a neighbourhood that was new, urban, and at the same time green, with more living and leisure space for adults and children, both inside and outside the home, as an alternative to the old city. In the Dönche, a nature reserve on the south-western slopes on the outskirts of the city, an area known as Schöne Aussicht (beautiful view) was chosen as a suitable location for the new model neighbourhood.
The neighbourhood and the homes were designed by nine architects, some German and some foreign, including Hinrich Baller, Herman Hertzberger and Otto Steidle. Noteworthy in the process were the design sessions, at which the nine architects together developed the urban plan (based on a proposal by Baller) and the transitions between the different components, as well as the coherence of the entire plan. The long residential building in particular, the so-called 'residential snake', composed of elements designed by six different architects, can be seen as a symbol of the unity in diversity that was striven for in this neighbourhood. This snake embodies the actual and symbolic heart of the plan; it forms the transition between the urban residential buildings along the Heinrich Schütz- Allee thoroughfare in the north, and the smaller residential courtyards along the southern edge. The snake opens up in the middle; Hinrich and Inken Baller designed the heads as a gate to the rear portion of the neighbourhood. The snake contains apartments with communal entrances in three to four layers. These homes are where the architects' often explicit ideas regarding collectivity, openness, urbanization, industrialization and flexibility are expressed the most powerfully. The tail of the snake is formed by a rounded section partly made of glass, with three apartments per layer (designed by Hilmer and Sattler). The head of the snake curls into a courtyard, whose tip is formed by a stepped building mass with two apartments per floor, designed by Otto Steidle.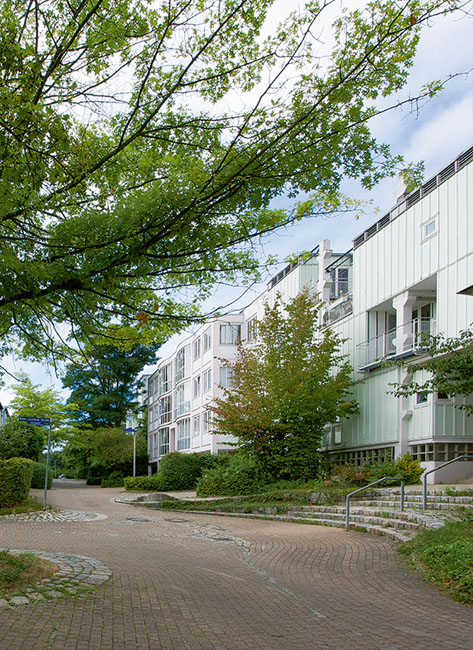 Downloads