Wiener Werkbundsiedlung Vienna
Josef Frank et al.
Abstract
The Wiener Werkbundsiedlung was created as the last in a group of example neighbourhoods that were built in Central Europe between 1927 and 1932 as part of a series of architecture exhibitions. They were an initiative of the various Werkbund organizations in Europe, and were intended as showcases for the ideas of modern architecture, and as a response to the issue of the cheap and small singlefamily home. In keeping with this objective, the Wiener Werkbundsiedlung was primarily a catalogue of different housing types that could be applied in future residential areas.
The project was initiated by Josef Frank, who at the time was the only Austrian invited to participate in the Werkbund exhibition in Stuttgart called 'Die Wohnung' (Weissenhofsiedlung, 1927). In contrast to the urban superblocks, which were built under the housing programme of Das Rote Wien (Red Vienna), Frank introduced the ideal of the single-family house with a garden. He modelled the urban plan on a traditional village, so it seemed as if the neighbourhood had grown over time. Rationalization, standardization and the use of new (prefabricated) construction techniques were among the priorities of the Weissenhofsiedlung, in order to produce cheap housing in series. But Josef Frank argued that the building materials and construction hardly played a role in the assignment of the Minimum Dwelling, because the programme was so rigidly determined that these aspects did not contribute to any innovation in the design. He emphasized the importance of creating a liveable, comfortable home, and opposed the formalism and dogmas of the modernists: 'Modern architecture not only needs to be functional, but also needs to meet the actual needs of people, of sentimentality and comfort' (Frank, Architektur as Symbol, 1931).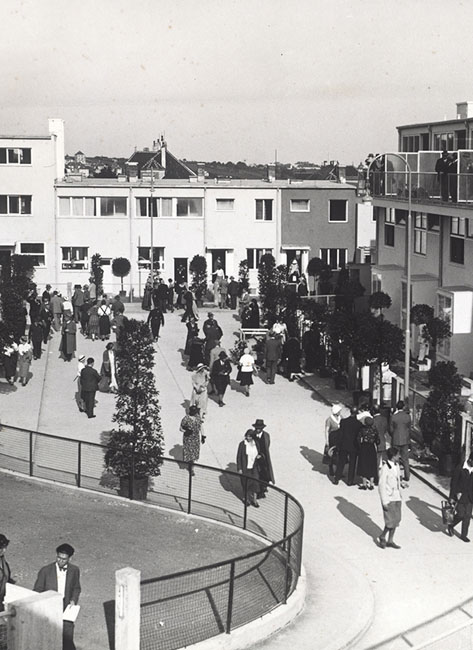 Downloads