Het Pentagon Amsterdam Aldo van Eyck & Theo Bosch
Abstract
In 1969, architects Aldo van Eyck and Theo Bosch won the invited competition for the Nieuwmarkt area in Amsterdam. The competition followed fierce arguments between residents and the city council of Amsterdam about the latter's master plan for the area, which pushed for the formation of a central business district. The original, small-scale inner-city neighbourhood had to make way for large offices and shops, a dual carriage way, one thousand parking spaces and the underground. Living was relocated to the periphery.
Van Eyck and Bosch were critical of the city council's plans. In their view, Amsterdam was due a reassessment and any demolition should be kept to a minimum. The building lines and narrow street patterns should actually be restored; mixedfunction development and reconstruction at building and individual plot level were crucial. The architects introduced gates and courtyards into their design for the public space, which produced secondary routes that might restore a lost vitality to this part of town.
The combined force of the powerful and well-organized neighbourhood pressure group and the uncompromising stance of the office of Van Eyck and Bosch led to a revision of the city council's plans. The arrival of the underground, however, was a done deal.
Van Eyck and Bosch designed some of the buildings in the planning area themselves, among them Het Pentagon. This block sits at the head of Sint Antoniesbreestraat, a street largely demolished to make way for the planned underground tunnel. The pentagonal perimeter block carefully follows the old building lines. Its courtyard is publicly accessible via gates on Sint Antoniesbreestraat and Raamgracht and via an alleyway from Zuiderkerkhof. The two gates and connecting alley coincide with a street that used to be here. This pedestrian and bicycle route through the development adds another layer to the urban space. According to Theo Bosch, a building's ground-floor level is a vital link with the rest of the city and should therefore have a public character: 'The ground floor level must be restored to the city.' The gates and the alleyway also provide access to the storage spaces underneath the development.
Access to the ground-floor homes in Het Pentagon alternates between the street and the courtyard. Front doors and back doors sit side-by-side. Small gardens, low fences and flower boxes, bordering on both the street and the courtyard, form transitional zones between public and private. The façades of the six double-height commercial premises along Sint Antoniesbreestraat are set back from the building line; the upper level, however, does follow the building line, resulting in an arcade that serves as a transition between shops and street. The commercial premises and the four studio apartments on Zuiderkerkhof have entrances on both the courtyard and the street in order to differentiate between life and work. The first two storeys feature apartments; the upper four levels contain stacked maisonettes with porch-access from the courtyard.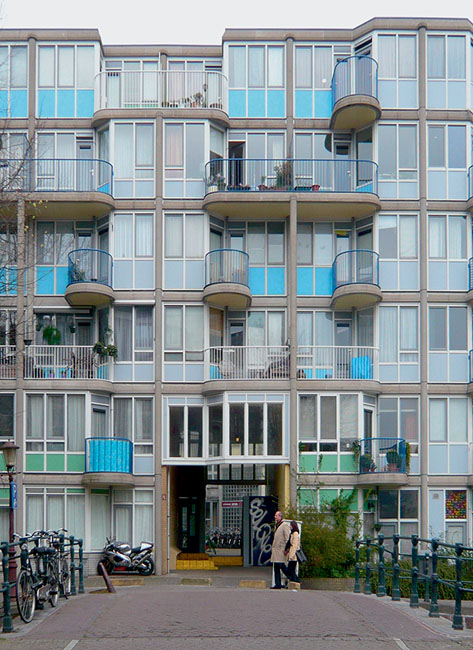 Downloads