Open Architecture and its Discontents
Abstract
The qualities that characterise open works of art have become prevalent in mainstream architecture theory.  Trying to elucidate why openness appears to mean so many different things and at the same time remains an ethereal concept, it seems worthwhile to reflect on potential justifications for its use. While the notion can be effectively and persuasively used to discuss the ethics that should govern our profession, beyond that axiological role its meagre explanatory power suggests that new directions in open architecture might require that we recognise its theoretical shortcomings and start looking for new and better ways to explain exactly what we're talking about when we talk about the architecture of our time.
References
Akcan, Esra. Open Architecture: Migration, Citizenship and the Urban Renewal of Berlin-Kreuzberg by IBA-1984/87 (Basel: Birkhäuser – de Gruyter Academic Press, 2018).
Basulto, David. 'Incremental Housing Strategy in India / Filipe Balestra & Sara Göransson', 8 May 2009, https://www.archdaily.com/21465/incremental-housing-strategy-in-india-filipe-balestra-sara-goransson
Bayona, Delia. 'Architects Propose 120 Incremental Social Houses for Iquitos, Peru', 23 March 2018, https://www.archdaily.com/889897/architects-propose-120-incremental-social-houses-for-iquitos-peru
Eco, Umberto. The Open Work, trans. Ana Cancogni (Cambridge, MA: Harvard University Press, 1989).
Hansen, Oskar and Hansen, Zofia. 'The Open Form in Architecture – the Art of the Great Number', in CIAM '59 in Otterlo, ed. Oscar Newman (Stuttgart: Karl Krämer, 1961), 190–92
I-Ching or Book of Changes, trans. Richard Wilhelm and Cary F. Baynes (New York and London: Penguin, 1989).
Jencks, Charles, and Silver, Nathan. Adhocism: The Case for Improvisation (Cambridge, MA and London: MIT Press, 2013).
Kennedy, Joseph. '"Permanently Unfinished": The Evolution of Architecture in the Galapagos Islands', 11 January 2017, https://www.archdaily.com/802383/permanently-unfinished-the-evolution-of-architecture-in-the-galapagos-islands.
Overstreet, Kaley. 'Is There a Future for Open Source Architecture?', 9 June 2022, https://www.archdaily.com/983160/is-there-a-future-for-open-source-architecture
Ratti, Carlo and Claudel, Matthew. Open Source Architecture (London: Thames and Hudson, 2015).
Rowe, Colin. 'The Architecture of Utopia', in The Mathematics of the Ideal Villa and Other Essays, ed. Colin Rowe (Cambridge, MA: MIT Press, 1976), 216
Santibañez Danae. 'Incomplete House / estudio relativo', 7 July 2018, https://www.archdaily.com/897012/incomplete-house-estudio-relativo
Sennett, Richard. 'The Open City', Lotus International 168 (January 2019): 117–29.
St. John Wilson, Colin. 'Open and Closed', Perspecta 7 (1961): 97–102.
Stouhi, Dima. 'Incomplete Structures Take the Spotlight in Photographic Series', 10 November 2019, https://www.archdaily.com/927806/incomplete-structures-take-the-spotlight-in-photographic-series
van den Heuvel, Dirk, ed. Jaap Bakema and the Open Society (Amsterdam: Archis, 2018)
Wölfflin, Heinrich. Principles of Art History: The Problem of the Development of Style in Later Art, trans. M. D. Hottinger (New York: Dover Publications, 1950).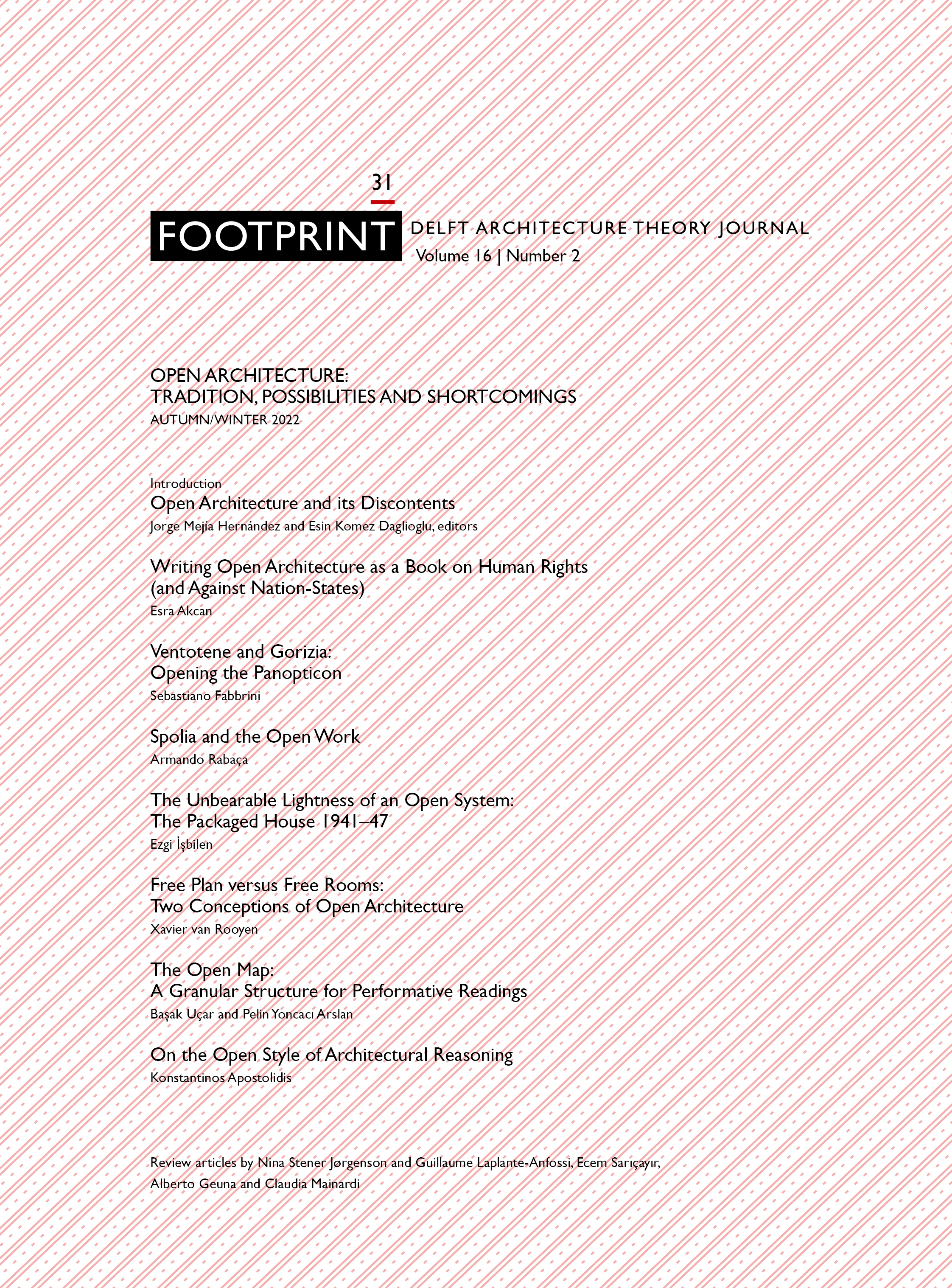 Downloads
License
Copyright (c) 2023 Jorge Mejía Hernández, Esin Komez Daglioglu
This work is licensed under a Creative Commons Attribution 4.0 International License.
Authors retain copyright and grant the journal right of first publication with the work simultaneously licensed under a Creative Commons Attribution License that allows others to share the work with an acknowledgement of the work's authorship and initial publication in this journal.
Authors are able to enter into separate, additional contractual arrangements for the non-exclusive distribution of the journal's published version of the work (e.g., post it to an institutional repository or publish it in a book), with an acknowledgement of its initial publication in this journal.