How to Spatially Mediate Conflicts?
Abstract
Various forms of violence and conflict continue to shape our habitats. What historically has been straightforward and even obvious two-way dependency, in recent years took more subtle and covert form due to sophisticated technological advancements in the fields of media, surveillance and armament. Recognising the detrimental effects of these new developments on the way we experience, conceptualise and build our environments, Footprint27 proposes artistic reflections, cross-media inquiry and counter-tactics as new powerful tools to rethink the complex relationship between conflict, space and mediation. On one hand, the aim of this issue is to deepen and expand theoretical considerations that substantiate investigations of spatial conflicts by making them truly interdisciplinary. On the other, it seeks to empower architects and artists in their pursuit of exposing, critiquing and fighting spatial violence by reclaiming/unlocking the enormous potential of media tools.
References
Benjamin, Walter. "The Artwork in the Age of Technical Reproduction." Translated by Edmund Jephcott and Harry Zohn. In Walter Benjamin: The Work of Art In the Age of its Technological Reproducibility and Other Writings on Media, edited by Michael W. Jennings, Brigid Doherty, and Thomas Y. Levin, 19-55. Cambridge, MA and London: The Belknap Press of Harvard University Press, 2008.
Benjamin, Walter. Das Passagen-Werk. Frankfurt am Main: Suhrkamp Verlag, 1983.
Buck-Morss, Susan. The Dialectics of Seeing: Walter Benjamin and the Arcades Project, 140–142. Cambridge, MA and London: The MIT Press, 1989.
Ellebrecht, Sabrina. Mediated Bordering: Eurosur, the Refugee Boat and the Construction of an External EU Border. Bielefeld: transcript Verlag, 2019.
Groys, Boris. History Becomes Form: Moscow Conceptualism. Cambridge, MA and London: The MIT Press, 2010.
Hale, Erin. "'Be water': Hong Kong Protesters Adopt Bruce Lee Tactic to Evade Police Crackdown." The Independent, 6 January 2020.
Latour, Bruno. "Why Has Critique Run out of Steam? From Matters of Fact to Matters of Concern." In Critical Inquiry 30 (Winter 2004): 225–248.
Lynes, Krista, Tyler Morgenstern and Ian Alan Paul, eds. Moving Images: Mediating Migration as Crisis. Bielefeld: transcript Verlag, 2020.
Lyotard, Jean-François. The Postmodern Condition: A Report on Knowledge, translated by Geoff Bennington and Brian Massumi. Minneapolis: University of Minnesota Press, 1984 [1979].
Mouffe, Chantal. Agonistics: Thinking the World Politically. London and New York: Verso, 2013.
Parks, Lisa. Rethinking Media Coverage: Vertical Mediation and the War on Terror. New York and London: Routledge, 2018.
Pomerantsev, Peter. Nothing is True and Everything is Possible: Adventures in Modern Russia. London: Faber & Faber, 2017.
---. This Is Not Propaganda: Adventures in the War Against Reality. London: Faber & Faber, 2019.
Tafuri, Manfredo. Theories and History of Architecture, translated by Giorgio Verrecchia. London: Granada, 1980 [1968].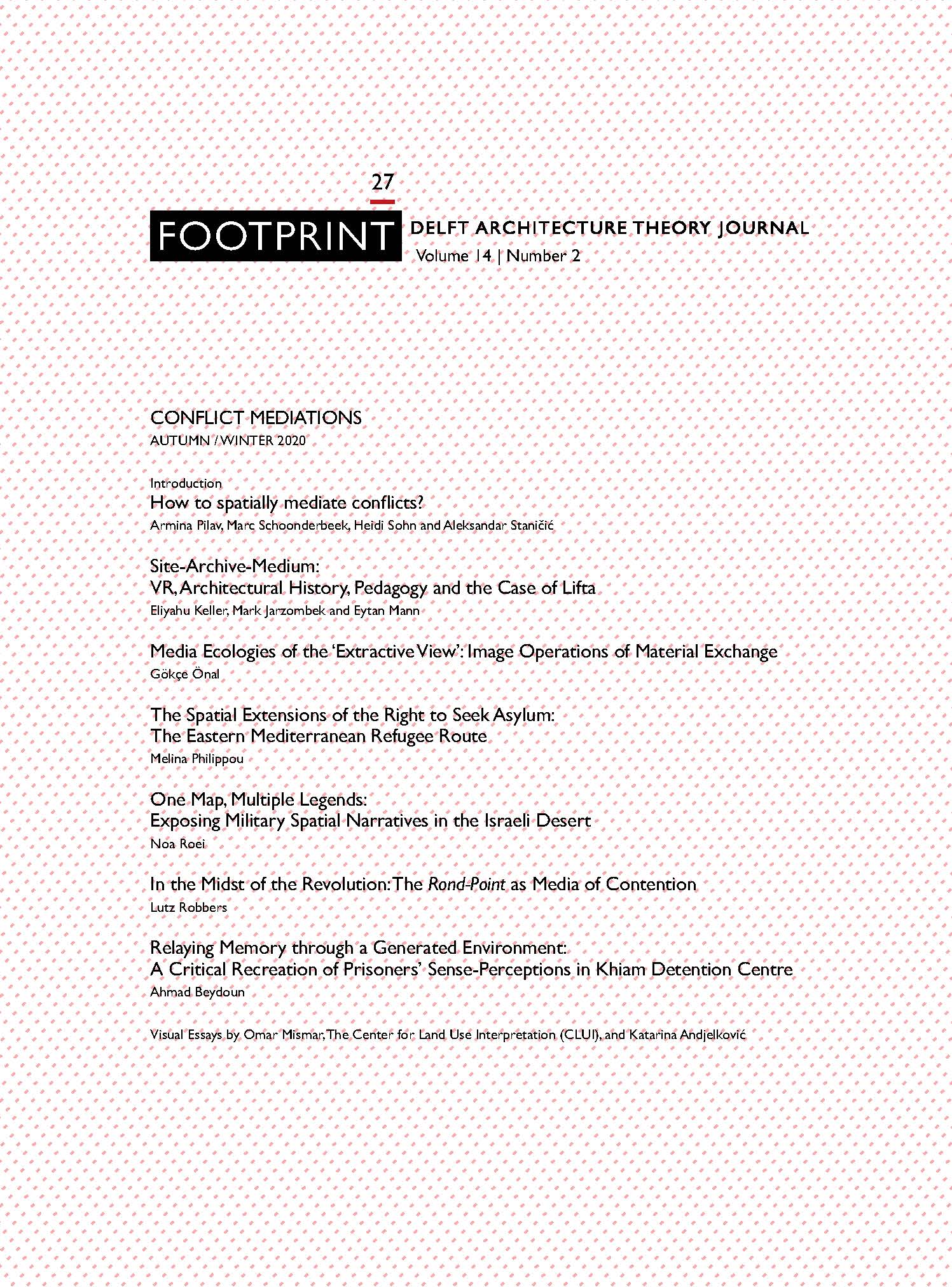 Downloads
License
Copyright (c) 2021 Aleksandar Stanicic, Marc Schoonderbeek, Heidi Sohn, Armina Pilav
This work is licensed under a Creative Commons Attribution 4.0 International License.
Authors retain copyright and grant the journal right of first publication with the work simultaneously licensed under a Creative Commons Attribution License that allows others to share the work with an acknowledgement of the work's authorship and initial publication in this journal.
Authors are able to enter into separate, additional contractual arrangements for the non-exclusive distribution of the journal's published version of the work (e.g., post it to an institutional repository or publish it in a book), with an acknowledgement of its initial publication in this journal.