Architecture as Exchange
Framing the Architecture Competition as Contact Zone
Abstract
The editorial introduction to this issue of Footprint follows a double trajectory. On the one hand, it describes an ambition for architecture historiography. The social sciences have long recognised the need for more comprehensive and inclusive methods for writing history. Among them, comparative literature scholar Mary Louise Pratt's 'contact zone' appears as a useful framework for writing new histories of architecture that recognise the many interrelations that characterise the discipline of architecture. On the other hand the introduction explains why, among many possible contact zones, focus has been set on the architecture competition. A short description of key aspects from the different contributions shows how, seen as a contact zone, the architecture competition emerges as fertile ground for the production of disciplinary knowledge, resulting from exchanges between different cultures. Acknowledging the diverse nature of these cultures, together with the recognition of institutions, legislation and other conceptual frameworks as key elements of architecture as contact zone offers fresh theoretical insight, but also poses unexpected communicative challenges.
References
Akcan, Esra. Architecture in Translation: Germany, Turkey, & the Modern House. Durham: Duke University Press, 2012
Akcan, Esra. Modernity in Translation, Phd Dissertation, Columbia University, 2005
Alex Bremner's Imperial gothic : Religious architecture and high Anglican culture in the British empire, c. 1840-1870. New Haven, Conn: Yale University Press, 2013
Avermaete, Tom, et al. OASE Crossing Boundaries: Transcultural Practices in Architecture and Urbanism = Grenzenloos : Transculturele Praktijken in Architectuur en Stedenbouw. Rotterdam: Nai010 uitgevers, 2015
Chattopadhyay, Swati. "Depicting Calcutta." PhD Dissertation University of California, Berkeley, 1997.
Chattopadhyay, Swati. Representing Calcutta. Routledge, 2005
Cohen, Jean-Louis, and Weil, Christa. Scenes of the World to Come: European Architecture and the American Challenge 1893-1960. Paris: Flammarion, 1995
Crinson, Mark. Modern Architecture and the End of Empire. Ashgate, 2003
Friedman, Alice. Women and the Making of the Modern House: A Social and Architectural History. New York : Abrams, 1998
Goldhagen, Sarah Williams. "Something to Talk about: Modernism, Discourse, Style." Journal of the Society of Architectural Historians, vol. 64, no. 2, 2005, pp. 144–167
Mejía Hernández, Jorge. Transactions; or Architecture as a System of Research Programs, PhD Dissertation, TU Delft, 2018
Pratt, Mary Louise: "Arts of the Contact Zone," Profession (1991), pp. 33 – 40
Upton, Dell. America's architectural roots: Ethnic groups that built America. Washington, D.C: The Preservation Press, 1986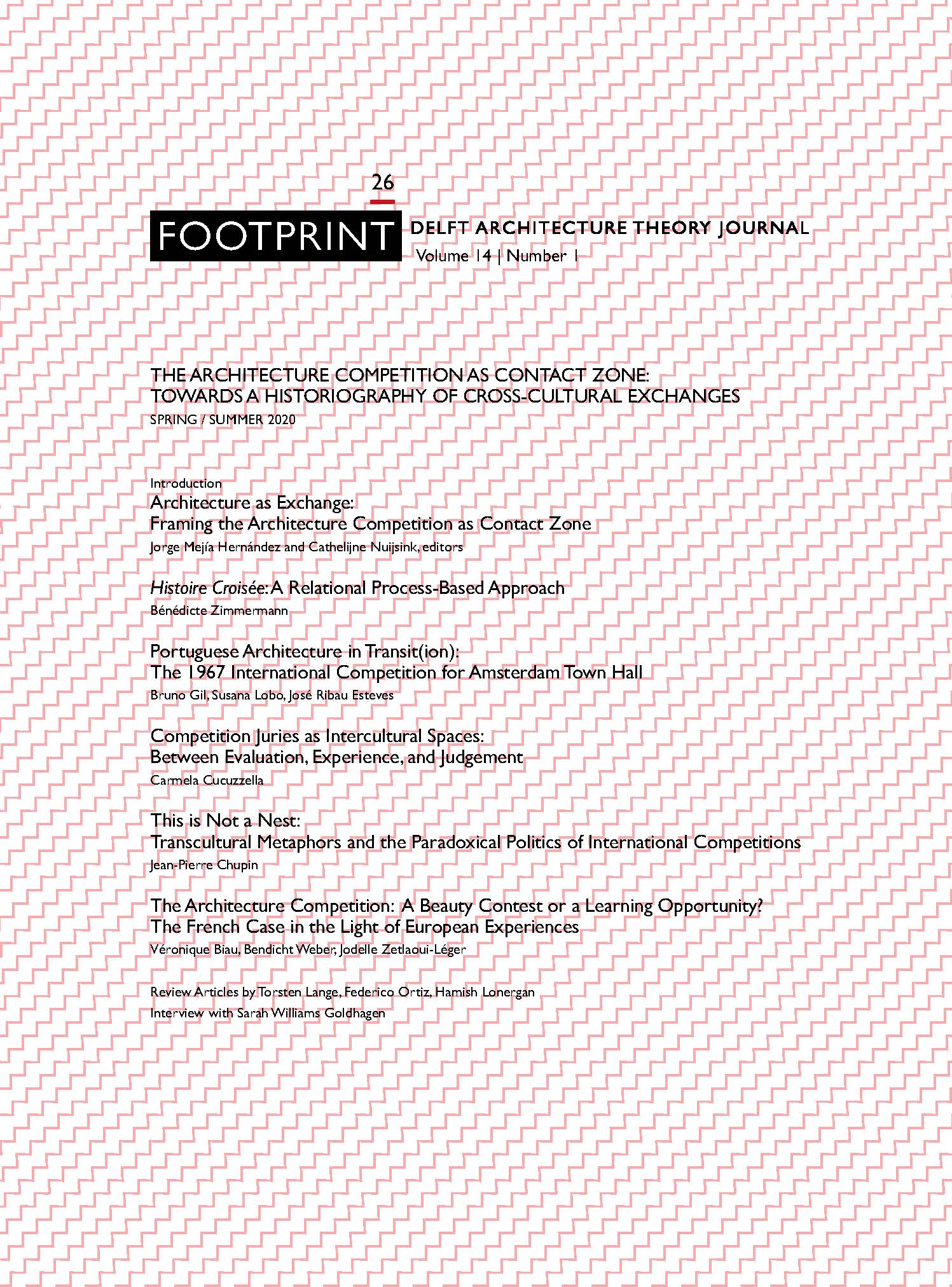 Downloads
License
Authors retain copyright and grant the journal right of first publication with the work simultaneously licensed under a Creative Commons Attribution License that allows others to share the work with an acknowledgement of the work's authorship and initial publication in this journal.
Authors are able to enter into separate, additional contractual arrangements for the non-exclusive distribution of the journal's published version of the work (e.g., post it to an institutional repository or publish it in a book), with an acknowledgement of its initial publication in this journal.