Site-Archive-Medium
VR, Architectural History, Pedagogy and the Case of Lifta
Abstract
Abstract:
The Palestinian village of Lifta, located beneath the western entrance to the city of Jerusalem, holds a deep history within its site. Evacuated by the newly established Israeli military forces during the 1948 Arab-Israeli war – or the Nakba ('The Catastrophe') as it is referred to by the Palestinian population – the village and its remains are a unique locus of conflicted histories, archaeology and landscape, and of collective memories. This article presents the work conducted during an experimental design research workshop within the MIT School of Architecture and Planning. Taking Lifta's site, as well as it historical and archaeological complexity, both real and imagined, as its archive, students developed their thematics following site-visits, interviews and research, and designed virtual experiences of the village, its multiple histories and narratives. The efforts provide epistemological and experiential cross-sections through the problematics of the site's complex history. In the process of designing a possible platform for a critical historiography of Lifta, the projects aim to further the potential of immersive technologies as a pedagogical tool.
Keywords:
Architecture, History, Lifta, Israel-Palestine, Virtual Reality
References
Bizri, Hisham. "Story Telling in Virtual Reality," Leonardo, Vol. 33, No. 1 (2000), 17-19. Cambridge, MA: MIT Press
Bodenhamer, David J., John Corrigan, & Trevor Harris, ed. Deep maps and spatial narratives. Bloomington: University of Indiana Press 2015
------ Harris, Trevor. "Deep Geography – Deep Mapping."
----- Bodenhamer, David J., "Narrating Space and Place."
Bowry, Stephanie. "Before Museums: The Curiosity Cabinet as Metamorphe," Museological Review, 18 (2014): 30-42.
Butler, Judith. "Performative Acts and Gender Constitution: An Essay in Phenomenology and Feminist Theory." Theatre Journal 40, no. 4 (1988).
Canaan, Tawfiq. The Palestinian Arab House: Its Architecture and Folklore, Syrian Orphanage Press, 1933.
------ Haunted Springs and Water Demons in Palestine. Palestine oriental society, 1922.
Darwish, Mahmoud. I Don't Want This Poem to End: Early and Late Poems. Northampton, MA: Interlink Pub Group, 2017.
Geris, Ali, and Nesrin ÖZDENER. "Design Models for Developing Educational Virtual Reality Environments: A Systematic Review." In Virtual and Augmented Reality in Education, Art, and Museum. IGI Global, 2019.
Gilliland, Anne J. & Michelle Caswell. "Records and their imaginaries: Imagining the impossible, making possible the imagined." Archival Science 16 (2016).
Godfrey, Mark. "The artist as historian," October (2007): 140-172.
Green, Renée. "Introduction: 'Negotiations in the Contact Zone' Symposium." In Negotiations in the Contact Zone, edited by Renée Green. Lisbon: Assírio & Alvim, 2003.
Hasson, Nir. "Men and Women, Religious or Not, Battle for Rights at Israeli Springs," Haaretz, June 29, 2018.
Herscher, Andrew. Violence Taking Place: The Architecture of the Kosovo Conflict. Stanford: Stanford University Press. 2010.
Israeli Antiquities Authority, Conservation Administration, Lifta Survey (2014-2017) http://www.iaa-conservation.org.il/
Khalidi, Walid, ed. All That Remains: The Palestinian Villages Occupied and Depopulated by Israel in 1948. Washington: Institute for Palestine Studies, 2006
Linda, Daniela, ed. Didactics of Smart Pedagogy: Smart Pedagogy for Technology Enhanced Learning. Cham: Springer International Publishing, 2019.
LaCapra, Dominick. Writing History, Writing Trauma. Baltimore: Johns Hopkins University Press, 2001.
Lucas, Gavin. Understanding the archaeological record. Cambridge University Press, 2012.
Meyer, Dominique, Elioth Fraijo, Eric Lo, Dominique Rissolo, and Falko Kuester. "Optimizing UAV systems for rapid survey and reconstruction of large scale cultural heritage sites." 2015 Digital Heritage, vol. 1, IEEE, 2015.
Mikropoulos, Tassos A., and Antonis Natsis. "Educational Virtual Environments: A Ten-Year Review of Empirical Research (1999–2009)," Computers & Education 56, no. 3 (April 1, 2011): 769–80
Nicohls, Bill. Introduction to Documentary. Indiana University Press, 2001.
Nitzan-Shiftan, Alona. Seizing Jerusalem: The Architecture of Unilateral Unification, Minnesota University Press, 2017.
Parks, Lisa, and Caren Kaplan. Life in the age of drone warfare. Durham: Duke University Press, 2017.
Pearson, Mike, and Michael Shanks. Theatre/Archaeology. London; New York: Routledge, 2001.
Yurco, Frank J. "Merneptah's Canaanite Campaign." Journal of the American Research Center in Egypt 23 (1986).
www.savelifta.org
www.zochrot.org
------ Interview with Gadi Iron, Architect. Accessed January 24, 2020. https://www.zochrot.org/en/testimony/54959.
------ Van Lij, Laura. Interview with Raida Adon. Accessed January 24, 2020. https://www.zochrot.org/en/testimony/54927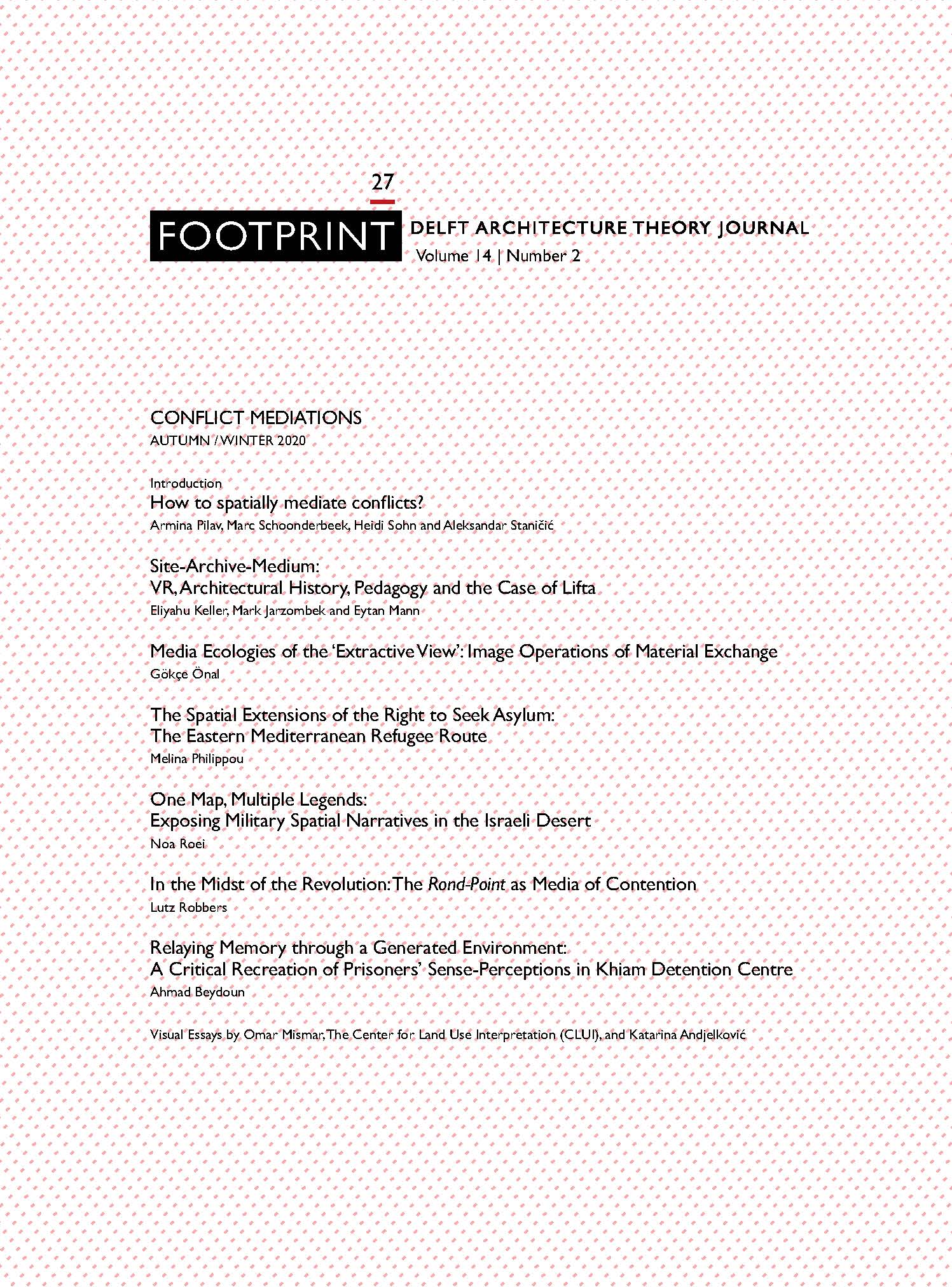 Downloads
License
Copyright (c) 2021 Eliyahu Keller, Mark Jarzombek, Prof., Eytan Mann
This work is licensed under a Creative Commons Attribution 4.0 International License.
Authors retain copyright and grant the journal right of first publication with the work simultaneously licensed under a Creative Commons Attribution License that allows others to share the work with an acknowledgement of the work's authorship and initial publication in this journal.
Authors are able to enter into separate, additional contractual arrangements for the non-exclusive distribution of the journal's published version of the work (e.g., post it to an institutional repository or publish it in a book), with an acknowledgement of its initial publication in this journal.