Relaying Memory through a Generated Environment
A Critical Recreation of Prisoners' Sense-Perceptions in Khiam Detention Centre
Abstract
Abstract:
Khiam Detention Centre (KDC), a detention camp established by Israel in South Lebanon in 1985, is currently under heavy political interference that aims to manipulate and monopolise the writing of its burdened history. The preservation of memory of events that took place in this prison needs to be urgently addressed in the face of multiple attempts of its erasure and biased revisions. This study surveys three types of media sources that contain the memory of KDC: 1) interviews conducted with former prisoners; 2) the data-archives of a radio programme called Nahnu Bikhayr Taminuna Ankom(We are alive, tell us if you are) and 3) the built environment mapped with a sonic device. The extracted memories are then transcluded to a generated environment that virtually relays the mnemonic site of KDC. This project was done out of an urgent need to preserve KDC's media imprints that are prone to erasure and modification. KDC is situated on the border of South Lebanon, a territory whose land and electromagnetic field have been occupied by state and non-state political actors. Since the claims of technological sovereignty inside the territory are tenuous and rife with the risk of political manipulation, I chose the space of the internet as provisionally more inclusive environment to host the virtual environment of KDC. Through three media sources, the generated environment allows users to experiment with the limitations and imposition of sound, allowing the critical recreation of the KDC site.
Keywords:
Reconstruction of memory, technological occupation, border territories, electronic surveillance.
References
Armes, Roy. New voices in Arab cinema. Indiana University Press, 2015.
Badian, M., E. Appel, D. Palm, W. Rupp, W. Sittig, and K. Taeuber. "Standardized mental stress in healthy volunteers induced by delayed auditory feedback (DAF)." European journal of clinical pharmacology 16, no. 3 (1979): 171-176.
Badran, Raya. Radiophonic Voices. Ashkal Alwan, 2017.
Basturk, Efe. "A Brief Analyse on Post Panoptic Surveillance: Deleuze & Guattarian Approach." International Journal of Social Sciences 6, no. 2 (2017): 1-17.
Beshara, Sohha and Cosette Ibrahim. أحلم بزنزانةٍ من كرز. Dar Al Saqi, 2017.
Caluya, Gilbert. "The post-panoptic society? Reassessing Foucault in surveillance studies." Social Identities 16, no. 5 (2010): 621-633.
Crampton, Jeremy. "Foucault and Space, Territory, Geography." Geography, March 29, 2012.
Dodds, Klaus. "Gender, geopolitics, and geosurveillance in The Bourne Ultimatum." Geographical Review 101, no. 1 (2011): 88-105.
Falzon, Christopher, Timothy O'Leary and Jana Sawicki, eds. A Companion to Foucault. Oxford: Blackwell Publishing, 2012.
Foucault, Michel. Discipline and punish: The birth of the prison. Vintage, 2012.
--- and P. Rabinow. "Discussion between M. Foucault, and P. Rabinow, B. Dreyfus, C. Taylor, M. Jay, and L. Lowenthal." Foucault Archive, 1983.
Galič, Maša, Tjerk Timan, and Bert-Jaap Koops. "Bentham, Deleuze and beyond: An overview of surveillance theories from the panopticon to participation." Philosophy & Technology 30, no. 1 (2017): 9-37.
"Israel Responsible for Abuses in Khiam Prison." Human Rights Watch, September 22, 2008. https://www.hrw.org/news/1999/10/27/israel-responsible-abuses-khiam-prison.
"Israel/South Lebanon - The Khiam Detainees: Torture and Ill-Treatment." Amnesty International. May 1992. https://www.amnesty.org/download/Documents/192000/mde150081992en.pdf.
Joana Hadjithomas and Khalil Joreige. Khiam 2000 – 2007. Abbout Production (Lebanon), 2007.
Porter, Lizzie. "A Legacy of Torture: Inside Lebanon's Khiam Jail." Middle East | Al Jazeera. Al Jazeera, August 14, 2017. https://www.aljazeera.com/indepth/features/2017/08/legacy-torture-lebanon-khiam-jail-170813125414823.html.
"Khiam Detention Center." Khiam Detention Center. Khiam: Lebanese Association for Prisoners and Editors, n.d.
Low, Setha M. "Towards an anthropological theory of space and place." Semiotica 2009, no. 175 (2009): 21-37.
Low, Setha M., ed. Theorizing the city: the new urban anthropology reader. Rutgers University Press, 1999.
Lucier, Alvin. I Am Sitting in a Room. Electronic Music Studio at Brandeis, 1969.
Makdisi, Jean Said. Review of Bechara, Soha, Resistance: My Life for Lebanon. H-Gender-MidEast, H-Net Reviews. March 2005.
Marks, Laura U. Hanan al-cinema: Affections for the moving image. MIT Press, 2015.
Murch, Fiona, ed. "Programmes | Correspondent | Israel Accused." BBC News. BBC, November 3, 2000. http://news.bbc.co.uk/2/hi/programmes/correspondent/1002463.stm.
Parks, Lisa. "Earth observation and signal territories." Ecomedia: Key Issues (2015): 141-161.
"Israeli Propaganda Raids on Lebanon." Psywarrior. Accessed January 9, 2020. http://www.psywarrior.com/IsraeliLebanon.html.
"Photos: Khiam Detention Center." n.d. Tadamon!. Accessed January 10, 2020. https://www.tadamon.ca/post/3199.
Raad, Walid. "Scratching on Things I Could Disavow: A History of Art in the Arab World." Springerin 17, no. 3 (2011): 24.
Richardson, Miles. "Material culture and being-in-Christ in Spanish America and the American South." Architecture in cultural change: Essays in built form and culture research (1984).
Strickland, Edward. Minimalism: origins. Indiana University Press, 2000.
"The Land Speaks to the Heavens." Mleeta. Accessed January 10, 2020. https://mleeta.com/mleeta/eng/.
"Torture in Khiam Prison: Responsibility and Accountability." Human Rights Watch, September 23, 2008. https://www.hrw.org/news/1999/10/27/torture-khiam-prison-responsibility-and-accountability.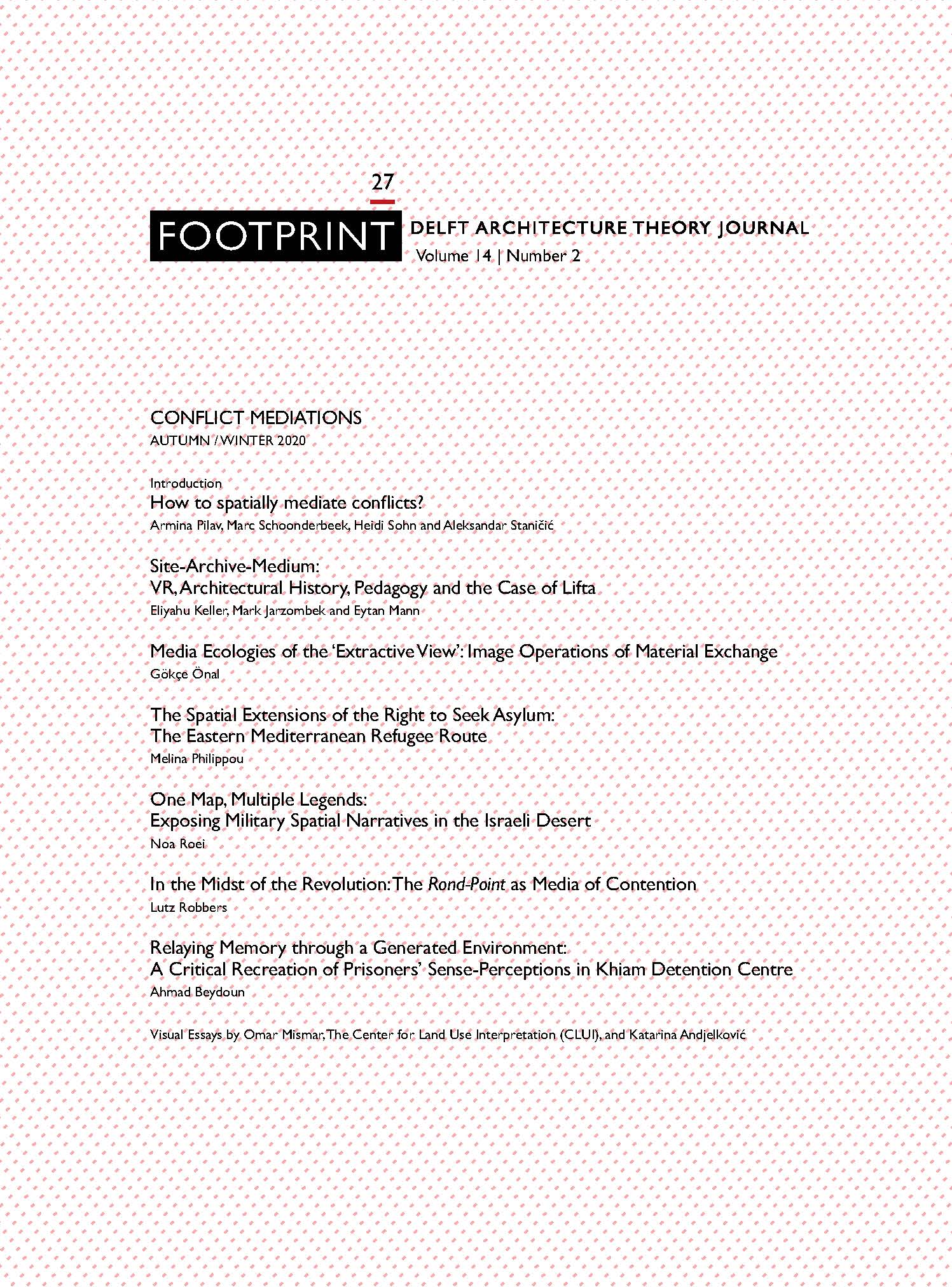 Downloads
License
Copyright (c) 2021 Ahmad Beydoun
This work is licensed under a Creative Commons Attribution 4.0 International License.
Authors retain copyright and grant the journal right of first publication with the work simultaneously licensed under a Creative Commons Attribution License that allows others to share the work with an acknowledgement of the work's authorship and initial publication in this journal.
Authors are able to enter into separate, additional contractual arrangements for the non-exclusive distribution of the journal's published version of the work (e.g., post it to an institutional repository or publish it in a book), with an acknowledgement of its initial publication in this journal.