The Other California
Abstract
The surface, container and conduit have become the primary infrastructural formats for logistics, operating and negotiating the scale of urbanism and landscape. 'Surfaces' are planes of mediation that typically function at a territorial scale as they are primarily implicated in a form of harvesting or collection. 'Containers' are architectural shells of enclosure often sited between the formats of surfaces and conduits – for storing, refining, or distributing a particular good. 'Conduits' are used to transfer matter and energy across vast distances, cutting through local settlements, political boundaries, ecosystems, and connecting to both containers and surfaces. These spatial formats typically reside in the 'background' of spatial design, yet are increasingly organising large tracts of land both in the hinterland as well as on the periphery of cities. Engaging in these background logistical formats holds promise for designers to have agency over territorial arrangements and could potentially offer alternate organisations that repay nature for its unpaid work. This article uses California's Central Valley – an operationalised landscape that sustains the state and country's food and energy needs – as a visual case study to reveal how these formats are deployed and organised.
References
Berger, Alan. Drosscape: Wasting Land in Urban America. New York: Princeton Architectural Press, 2007.
Bhatia, Neeraj, et al., Pamphlet Architecture 30: Coupling. New York, Princeton Architectural Press, 2011.
Branzi, Andrea. No-Stop City: Archizoom Associati. Orléans: HYX, 2006.
California Legislative Analyst's Office, 'Six Californias Plan: Report', 31 January 2014. http://www.lao.ca.gov/ballot/2013/130771.aspx.
Krauss, Rosalind. 'Sculpture in the Expanded Field.' October 8 (Spring 1979): 30–44.
Marx, Karl. Capital: A Critique of Political Economy, Volume III. trans. Samuel Moore and Edward Aveling. New York: International Publishers New World Paperback, 1967 [1847].
Moore, Jason W. Ecology and the Accumulation of Capital. New York: Verso, 2014.
---. 'The End of Cheap Nature, or: How I learned to Stop Worrying about "the" Environment and Love the Crisis of Capitalism.' in Structures of the World Political Economy and the Future of Global Conflict and Cooperation, ed. C. Suter and C. Chase-Dunn (Berlin: LIT, 2014), 285- 314.
Tejon Ranch Commerce Center, 2018, http://www.tejoncommerce.com/index.php/#about.
Wall, Alex. 'Programming the Urban Surface', in Recovering Landscape: Essays in Contemporary Landscape Architecture, ed. James Corner, 233–249. New York: Princeton Architectural Press, 1999.
Jones, Christopher F. Routes of Power. Cambridge: Harvard University Press, 2014.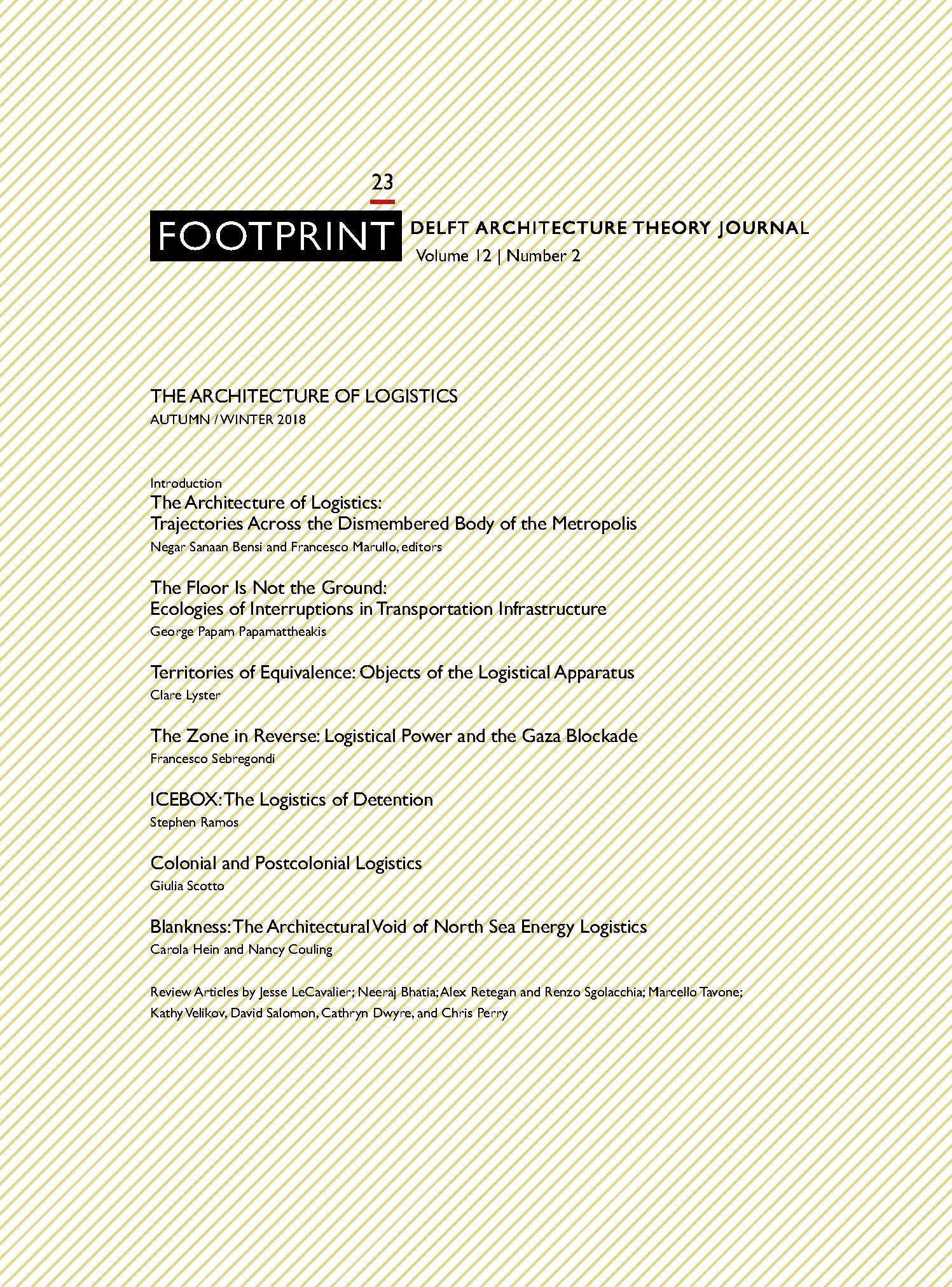 Downloads
License
Authors retain copyright and grant the journal right of first publication with the work simultaneously licensed under a Creative Commons Attribution License that allows others to share the work with an acknowledgement of the work's authorship and initial publication in this journal.
Authors are able to enter into separate, additional contractual arrangements for the non-exclusive distribution of the journal's published version of the work (e.g., post it to an institutional repository or publish it in a book), with an acknowledgement of its initial publication in this journal.