New Interfaces in the Automated Landscapes of Logistics
Abstract
Metaphors of flows are often used to describe aspects of logistics, thereby suggesting smooth and inevitable operations while also obscuring the frictions and contingencies that characterize the industry. This article explores the consequences and possibilities of these modes by first elaborating some aspects of logistical operations in order to connect them to the contemporary built environment. It looks at the architectural components of the company Walmart in order to present hypothetical scenarios related to the future of the logistical landscape. By connecting these visual experiments to questions of representation, automation, and systems thinking, the article explores the ways we might challenge and extend the possibilities of logistics.
References
Ballantyne, Andrew, and Chris L. Smith, eds., Architecture in the Space of Flows. London: Routledge, 2012.
Bauman, Zygmunt. Liquid Modernity. Cambridge: Polity Press, 2000.
Nixon, Rob. Slow Violence and the Environmentalism of the Poor. Cambridge MA: Harvard University Press, 2013.
Star, Susan Leigh, and James R. Griesemer. 'Institutional Ecology, "Translations" and Boundary Objects: Amateurs and Professionals in Berkeley's Museum of Vertebrate Zoology, 1907–39.' Social Studies of Science, 9, no. 3 (August 1989): 378-420.
Winner, Langdon. Autonomous Technology: Technics-out-of-Control as a Theme in Political Thought. Cambridge, MA: MIT Press, 1977.
Weick, Karl. 'Educational Organizations as Loosely Coupled Systems.' Administrative Science Quarterly 21, no. 1 (March 1976): 1-19
Zook, Matthew. and Mark Graham. 'Wal-Mart Nation: Mapping the Reach of a Retail Colossus,' in Wal-Mart World: The World's Biggest Corporation in the Global Economy, ed. Stanley D. Brunn, 15-27. London: Routledge, 2006.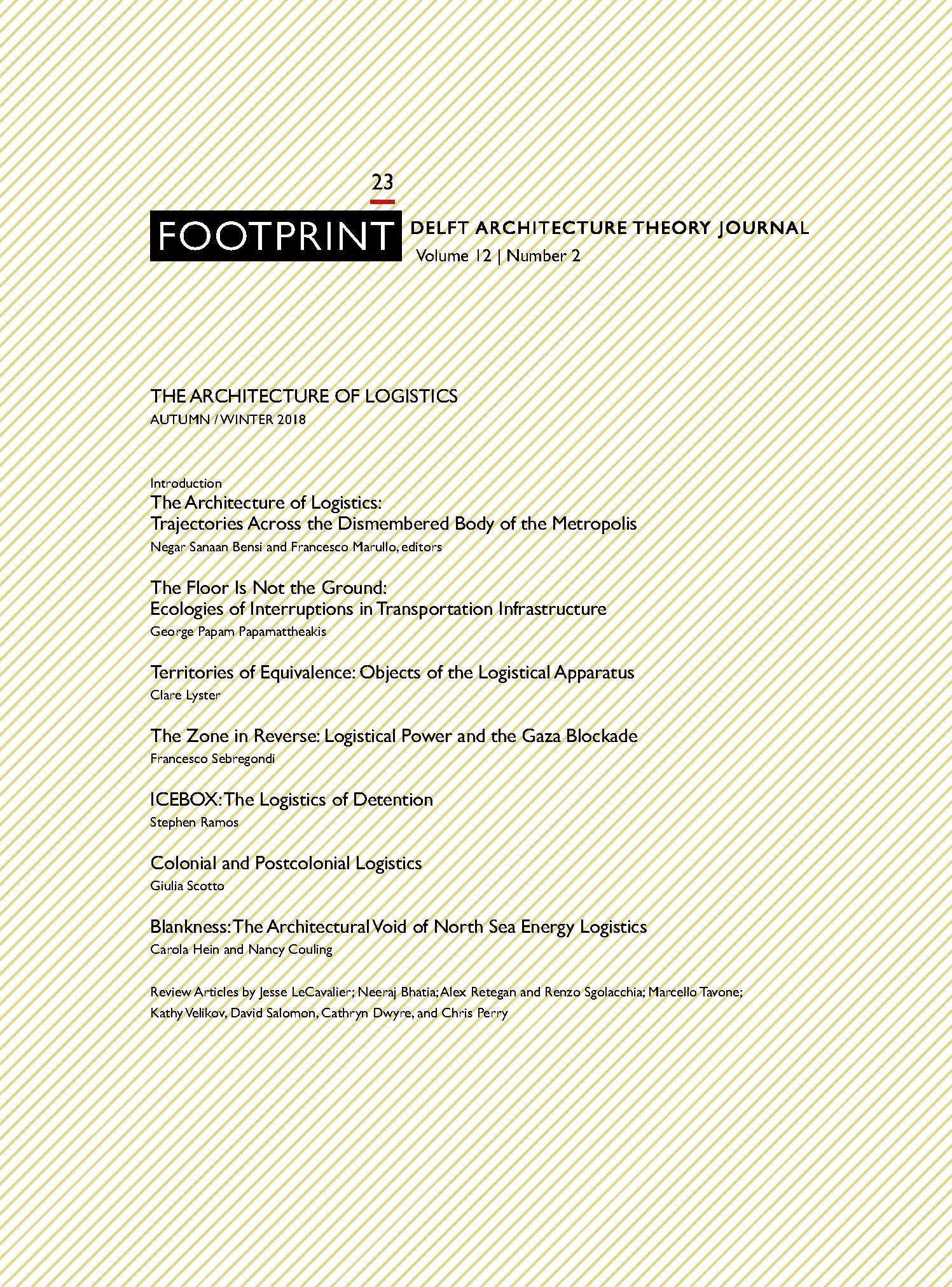 Downloads
License
Authors retain copyright and grant the journal right of first publication with the work simultaneously licensed under a Creative Commons Attribution License that allows others to share the work with an acknowledgement of the work's authorship and initial publication in this journal.
Authors are able to enter into separate, additional contractual arrangements for the non-exclusive distribution of the journal's published version of the work (e.g., post it to an institutional repository or publish it in a book), with an acknowledgement of its initial publication in this journal.