Ambiguous Territory
Aesthetic Practices Against Agrilogistics
Abstract
What can one do when the things and processes used to sustain oneself – physically, economically, emotionally – are executed at a scale and intensity whereby they become poisonous? Such a scenario describes certain addictions. An illustration of such an addiction on a planetary scale is exemplified by the neologism agrilogistics. This planned approach to the environment seeks to organise, divide, and manage the earth in order to increase the likelihood of human survival. From parasite-vulnerable monocrops to systemic biopolitical violence upon indigenous peoples, these conditions expose the dark and unwanted externalities to the logistical algorithm that we have only recently begun to understand as deeply intertwined with each other and within all life on the planet. What can art and design do to intervene in this positive feedback loop of economic growth and environmental catastrophe? Perhaps one thing we can do is to use visual, material, and spatial media to think the world differently by questioning the premise of anthropocentrism, establishing instead new conditions of relation between human and nonhuman and with it, new forms of kinship with other species. The exhibition Ambiguous Territory: Architecture, Landscape and the Postnatural assembles a shifting tide of practices, objects, and images by architects, landscape architects, and artists that points to ways of operating within this new paradigm. 
References
Ballard, J. G. The Drowned World. New York & London: WW Norton, 2012 [1962].
Bateson, Gregory. 'The Cybernetics of "Self": A Theory of Alcoholism.' Psychiatry 34 (1971): 1–18.
Bruce D. Smith, 'The Onset of the Anthropocene.' Anthropocene 4 (December 2013): 4–6.
Connolly, William E. Politics and Ambiguity. Madison: University of Wisconsin Press, 1987.
Derrida, Jacques. 'Plato's Pharmacy', in Disseminations, trans. Barbara Johnson, 65–119. Chicago: University of Chicago Press, 1981.
French, Lindsey. 'Biologic Mediations Panel.' Lecture. Ambiguous Territory Symposium. October 6 2017.
Guattari, Félix. Chaosmosis. Translated by Paul Bains and Julian Pefanis. Bloomington: University of Indiana Press, 1995.
Haraway, Donna. Staying With the Trouble, Making Kin in the Chthulucene. Durham NC: Duke University Press, 2016.
Morton, Timothy. Dark Ecology. Columbia University Press, 2016.
Rancière, Jacques. 'The Aesthetic Dimension: Aesthetics, Politics, Knowledge.' Critical Inquiry 36, No. 1 (Autumn 2009): 1-19.
Steffen, Will, Jacques Grinevald, Paul Crutzen, and John McNeill. 'The Anthropocene: conceptual and historical perspectives.' Philosophical Transactions of the Royal Society, 369 (2011): 842-867.
van der Vorst, Jack G.A.J., and Joost Snels. Multi-Donor Trust Fund for Sustainable Logistics (MDTF–SL) Position Note on Agro-Logistics. Washington, DC: World Bank Group, 2014.
http://documents.worldbank.org/curated/en/518411468060560130/pdf/858250WP0Posit00Box382162B00PUBLIC0.pdf
Vidler, Anthony. The Architectural Uncanny: Essays in the Modern Unhomely. Cambridge, MA: MIT Press, 1992.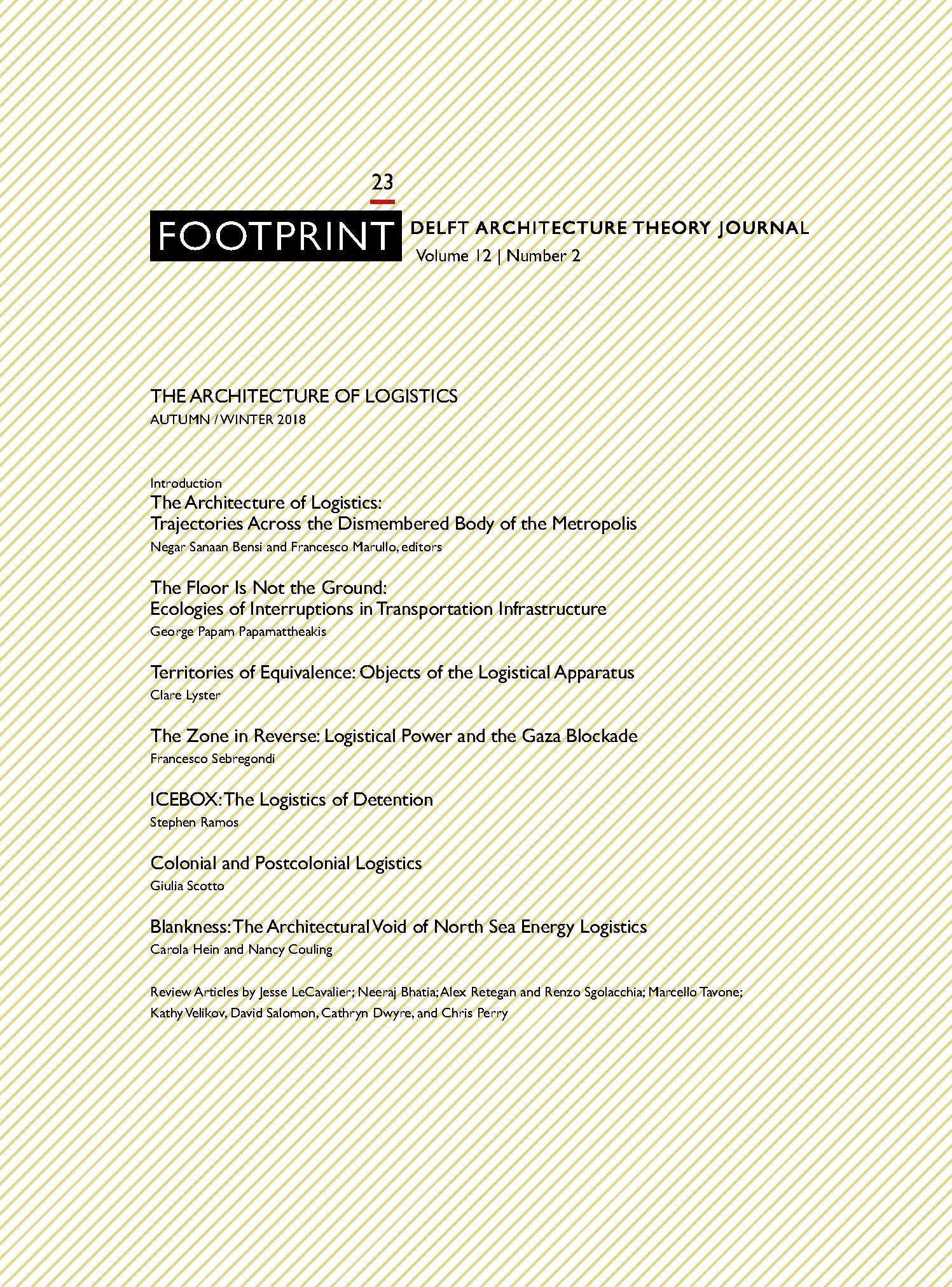 Downloads
License
Authors retain copyright and grant the journal right of first publication with the work simultaneously licensed under a Creative Commons Attribution License that allows others to share the work with an acknowledgement of the work's authorship and initial publication in this journal.
Authors are able to enter into separate, additional contractual arrangements for the non-exclusive distribution of the journal's published version of the work (e.g., post it to an institutional repository or publish it in a book), with an acknowledgement of its initial publication in this journal.