Merelhof Bergen (NH)
J.H. Roggeveen
Abstract
Merelhof was designed in 1949 by the Bergen local authority architect J.H. Roggeveen (1888-1955). It exemplifies the principles of the Delft School, a traditionalist movement based on the presumption of an inseparable connection between past and present, which stressed the 'timeless values' of architecture. In the sphere of housing design adherents of the Delft School sought simple, recognizable forms that were inspired by rural architecture from the past. They often found inspiration for the design of homes for the elderly, for example, in 'hofjes', the traditional Dutch configuration of accommodation for the needy or disadvantaged around courtyards. The Delft School is further characterized by its combination of the traditional use and detailing of materials such as brick and wood, with the application of new techniques for certain parts, such as concrete structural elements and steel window frames.
Roggeveen clearly manifested this combination of timeless architectural values with contemporary insights into planning and technology in the Merelhof. Three different building volumes, designed to house pensioners, enclose a courtyard to the west in a U configuration that apparently refers to traditional Dutch courtyards. The sense of 'village' community established by the courtyard structure is further expressed in the collective spaces, such as the manager's dwelling, which accommodates a communal dining room and bathroom. However, there is a degree of ambiguity in the Merelhof's grouping of dwellings around a courtyard, for some dwellings have their front adjoining the courtyard and others their rear, so that all living rooms face either south or west, in order to comply with functional requirements regarding optimum sunlight incidence.
All the dwellings are enclosed by a path running along the front gardens and a path running immediately behind the back entrances. Each dwelling has an unobstructed view of the high, surrounding greenery. The central position of the courtyard is emphasized by a central sculpture, representing the 'Awakening of nature'. The simple main forms of the three blocks are characterized by a high, continuous and red-tiled gable roof, enclosed by transverse brickwork gables topped by tiles set in mortar. The manager's dwelling is set apart by a higher, sloping, transverse roof. Large brick chimneys create a strong, rhythmical silhouette. The residential programme is entirely fulfilled on the ground floor, with a small entrance hall with toilet and attic stairs to the front, a living room, and a bedroom and kitchen to the rear, all in minimal dimensions. A cupboard beneath the stairs once accommodated a wash basin. In addition to the rational grouping of the Merelhof dwellings, Roggeveen chiefly expressed the contemporary character of the development in the exceptionally minimal dormer windows with 'abstract' detailing and the large, steel, living-room window frames. Regrettably, the latter were replaced during renovation work by exceptionally ugly, wooden window frames.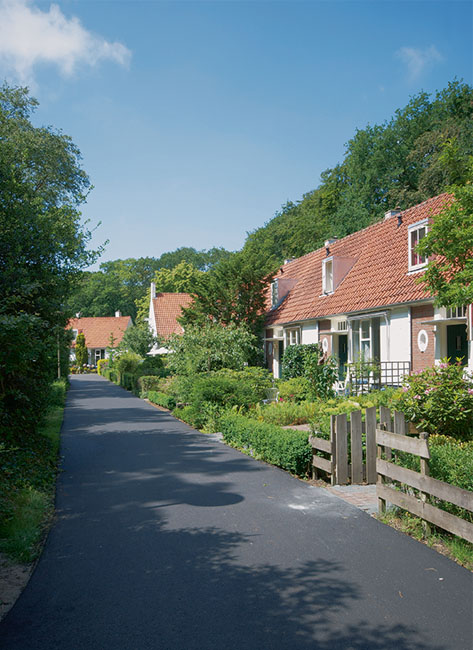 Downloads