Villa Welpeloo Enschede
2012Architecten
Abstract
When 2012Architecten received the commission to design a villa in the Roombeek district in Enschede in 2005, the firm had for years already been designing and realizing smaller projects in which they applied reused materials. The architects conceived the term 'superuse' for this system of reuse and published a book on the subject in 2007. With superuse, new life is given to waste materials, or parts of them, in their original form. Thus it should not be confused with recycling, which stands for the entire process of reworking existing objects into new raw materials, something that requires a lot of new energy.
Villa Welpeloo is the first house the architects built. The clients wanted to be able to exhibit art professionally in their new residence. A wide glass entrance between the guest wing and the living room takes visitors into a large, twostorey- high exhibition room that is spatially connected with the dining and living room area. The kitchen and workroom are on a slightly higher level. Located on the top floor are the master bedroom with annexes and a guest bedroom.
Sixty per cent of the villa is comprised of waste materials. To achieve this, the architects made a 'harvest map' of potential building materials in the surrounding area, sticking to a radius of approximately 15 km around the building lot in order to limit CO2 emissions from transport. The fieldwork for this harvest map literally consisted of scouting out transit sheds and visiting factories in search of usable waste products.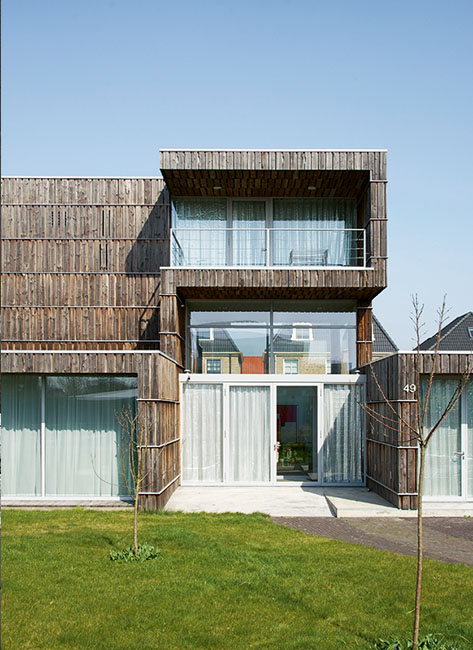 Downloads