Casa Muro Santiago de Chile
FAR Frohn & Rojas
Abstract
An ordinary rectangular lot in a rural expansion district of Santiago de Chile was the inspiration for this amazing Wall House. The lot is screened off from its immediate surroundings by several boscages, which however do not hinder a wider view of the Andes Mountains. This inspired the architects Frohn and Rojas to come up with the idea of a house that is like the separate layers of a wall, with each layer acting as a filter with specific physical and visual characteristics, and in which the living spaces are located between the layers – in the wall, as it were.
The thicket-ringed lot forms the outermost layer. The next filter is a tent-like shroud of finely woven, reflective aluminium netting stretched in triangular planes, which gives the house its geometrically complex and shiny appearance. The netting, typically used in greenhouse construction as an energy screen, reflects up to 70 per cent of the Chilean sun while keeping out mosquitoes and other insects. In several triangles near the ground, mosquito netting is used, which with the help of zippers allows entrance to the protected outdoor area between the netting and the next layer of the building. This provides the climate separation and consists of translucent plates of polycarbonate, set in a rhythm of vertical black frames all around the house. The triple-layered polycarbonate is highly insulating, filters the direct sunlight, offers abundant daylight on all sides and catches a continually changing pattern of shadows from the surrounding trees. Behind this layer are the most important living spaces and the master bedroom, some of which are two storeys high. For the view, the polycarbonate is replaced in some places by ceiling-high double glazing with sliding doors to the outside areas.
The open living areas lie spread around in a wooden volume that represents the next layer of the Wall House. On the ground floor, this includes a kitchen, dining area and guest room; while the upper floor houses a workspace/studio. The enclosure consists of prefabricated wall units of laminated wood, which are stacked upon one another as constructive segments that project out up to 5.2 m. They are alternatively finished on the inside or outside with multiplex or left entirely open, creating various storage possibilities and relationships with the surrounding living areas. Finally, at the heart of the house is a concrete core containing a spacious bathroom on both levels. The unfinished concrete forms a robust, protective casing for the entirely tiled wet zone, the most hidden part of the house.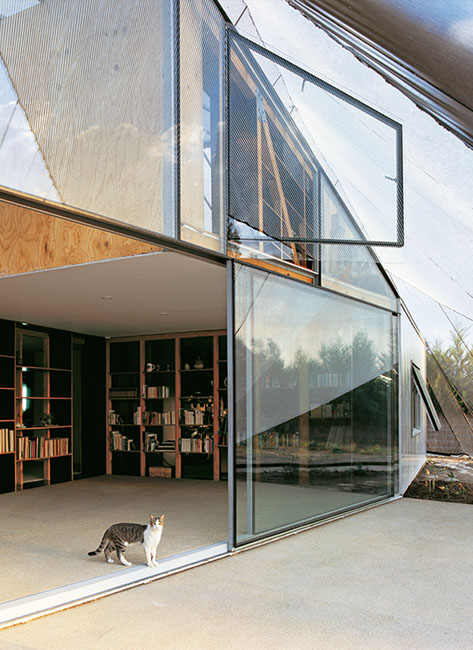 Downloads