Villa Engström Lisön Södermanland
Abstract
At a superb location on the Baltic coast near Lisön, Ralph Erskine designed a vacation home in 1955 that also had to be suitable for year-round living. The client, Engström, was the owner of a steel construction company, and he collaborated with Erskine on developing the self-supporting dome construction of the house. The dome is comprised of 16 prefabricated segments of 3-mm-thick steel. It was meant to serve as a prototype for large-scale factory production, which was never realized. The ideas behind it show parallels with Buckminster Fuller's Wichita Dymaxion House, the production of which also remained limited to a single prototype. For both houses, new techniques that had been developed in the defence and aerospace industries were applied in order to come up with affordable, prefabricated homes that could be placed in different locations.
The dome construction of the Engström house offers the biggest possible interior volume with the smallest exterior surface area. During the winter, the dome is completely covered with snow, which, just like with an igloo, provides good insulation for the interior space. Small window openings are placed on the steel walls like glass 'gun turrets', which during the winter poke through the layer of snow. The steel dome stands on a concrete platform that extends from the house and is stepped down towards the water. Inside, the space under the dome is kept as open as possible; the bedrooms and a bathroom are pushed back against the outer wall as separate volumes. The ceilings of these spaces form accessible platforms, connected with one another by means of a walkway around the open centre of the house. A large stove stands in the open centre; its stovepipe sticks right through the top of the 5.5-m-high dome. The interior of the dome is finished with sheet material, painted white, on top of a layer of insulation; the floors are covered with teakwood planks. The dome's exterior is painted blue, in harmony with the surrounding rocky islands.
The ideas developed for the house can be found on a much larger scale in Erskine's studies for Arctic architecture, which he presented at th e last CIAM conference in Otterlo in 1959. His drawings of building complexes under large domes on terraced slopes are in fact an enlargement of the Engström house, which with its system of open and closed spaces on different levels beneath an overall dome makes a clear distinction between collective and more private living spaces. In the plans for an Arctic city, this idea was further enlarged upon as a city with buildings and public spaces protected from the bitter cold by a colossal spherical vault.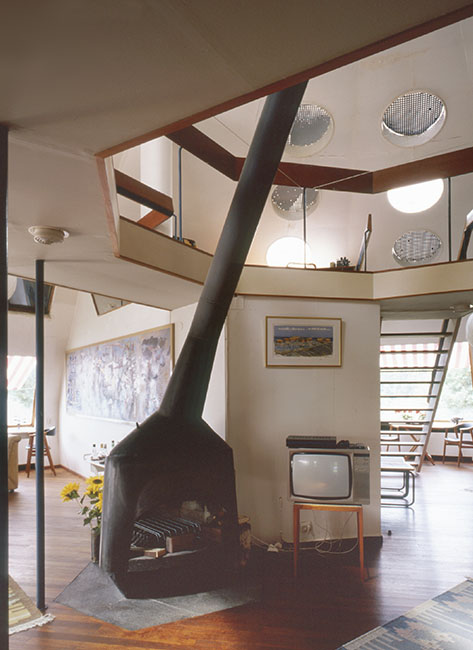 Downloads