Krekenbuurt Zwolle Benno Stegeman
Abstract
In 1974 architect Benno Stegeman was commissioned to design a neighbourhood on the Aa-Landen housing estate in Zwolle. This neighbourhood was to reflect 1970s' ideals which sought new residential forms within a new, democratized and individualized society. The guiding principles derived from themes such as collectivity versus individuality, hospitality and small-scale development.
Krekenbuurt gave Stegeman a chance to design his own total plan in which urban design, architecture and layout of the communal space formed a coherent whole. The result was an independent residential neighbourhood with a nonhierarchical structure, a fanciful language of forms and a wide diversity of outdoor spaces.
The basic element in the plan is a hook-shaped block of housing composed of attached family dwellings. By setting two of these blocks opposite each other, Stegeman created sheltered central areas with openings to the green zones.
These woonerven accommodate all kinds of usage, such as parking, play and green areas. Specific forms of layout subtly define the various areas with paving and street furniture. The woonerven can only be accessed from roads on the outside of the plan area: thus there are no through roads within these residential zones, whose component blocks are connected with each other by pedestrian paths.
The green zone to the rear of the dwellings is laid out as a communal park, where a great deal of attention has also been paid to the structure, which incorporates children's play areas, seating areas and green areas. The private gardens to the rear of the dwellings form a part of the park visually, for there are no fences; even the greenery in these gardens is dictated by the overall plan, for residents must choose their plants from a range specified by the architect.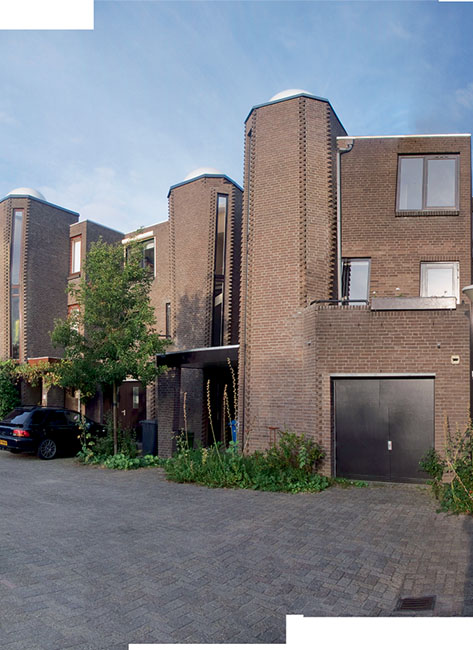 Downloads