Affordable Housing as Development Aid
Michel Écochard: New Roles, Methods and Tools of the Transnational Architect
Abstract
It was not by coincidence that the UN Economical and Social Council decided in 1948, only a few years after the actual foundation of the United Nations as an organization, to start a division on Housing and Town and Country Planning. This division was a central component in the larger so-called technical assistance programme that the United Nations developed to help countries that were in need – ranging from war-affected countries in Europe to newly independent nation-states in African and Asia. Among the members of the council, there was a clear understanding that affordable housing was a universal human right, as well as a main matter of concern and a prime field of intervention for the new international organization.
The Housing and Town and Country Planning (HTCP) division was from its inception until 1966 headed by a former member of the Congress Internationaux d'Architecture Moderne (CIAM), the Yugoslavian Ernest Weismann. The new division was defined first and foremost as a base of expertise: it was meant to gather worldwide knowledge on the matter of affordable housing that was generated in the different member countries. With this in mind, the HTCP managed to unite different professional camps of architects and urban planners, gathering public administrations and avant-garde groups, but also organizations that had previously been keen to establish an ideological distance such as the CIAM and the International Union of Architects (IUA).
The knowledge that was gathered was made available to the member countries in different ways: through the publication of manuals and a bulletin, through the installation of a library and by curating a mediatheque with movies on different forms of housing worldwide. Besides this function as a base of expertise, the HTCP section also focussed on more concrete sorts of intervention. It would commission urban and regional planners, architects, engineers and technicians to go on missions to regions, countries or cities that were in need. In the decades after 1948 the HTCP would initiate hundreds of missions, organize trainings, make regional and urban plans and even design buildings for a variety of contexts and places. The numerous urban plans, neighbourhoods and buildings that resulted from these 'development aid' initiatives have for a long time been the no-go zones of architectural criticism and historiography. Plans and projects have often been considered as too instrumental and too technical in character to carry any cultural significance.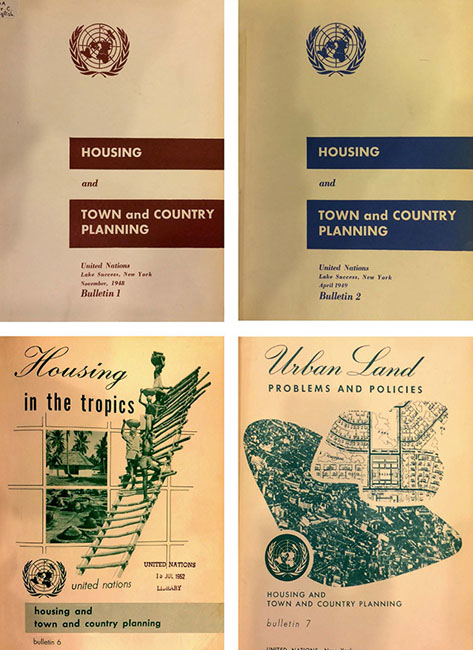 Downloads