Poundbury Dorchester
Leon Krier
Abstract
Since the 1980s, Prince Charles of Great Britten has been making prominent and controversial contributions to the debate about urban design and architecture. His explicit and occasionally aggressive attacks on the legacy of modernism and on new developments have caused quite a stir. He expressed his vision in 1989 in a BBC documentary and in the book A Vision of Britain. He also took the initiative to develop a plot owned by the Duchy of Cornwall on the western edge of the southern English town of Dorchester. While traditional architecture and planning take centre stage here, ideas about participation and ecology inform the development as well.
The Prince of Wales asked Leon Krier to draw up a master plan for the area, which is named after Poundbury, the farm at the centre of the site. Krier's master plan is based on four new neighbourhoods, each no bigger than Dorchester's historic town centre. Monumental avenues separate the four areas and connect them with the existing town; facilities are placed at strategic locations. Although Poundbury is not an independent New Town, thanks to the creation of a new centre it is not a suburb either. Krier himself refers to Dorchester as changing from a monocentric to a polycentric town, a transformation that was to significantly reduce the town's car traffic. Having worked on his project for Seaside in Florida, Krier asked Andres Duany to draw up building regulations. A key element of this renowned exponent of New Urbanism was Duany's urban code, a matrix of architectural and urban design rules that served as a template for a varied and cohesive architectural development.
The first phase, Middle Farm Quarter, borders on an existing suburb with typically English terraced and semi-detached houses. The street pattern of this neighbourhood is extended, but transformed into a picturesque succession of small squares, winding streets and courtyards. Krier's initial drawings for Middle Farm show an urban scene, a vision of an Italian town lost in Dorset. The final design is much more rustic, seemingly more locally inspired, with a less heterogeneous programme. The development consists largely of groundaccessed dwellings, either detached or in small terraces. In terms of floor plan and linkage these dwellings do not really differ from the usual, but they are notable for their simple yet meticulous detailing which, where possible, avoids any allusion to the present.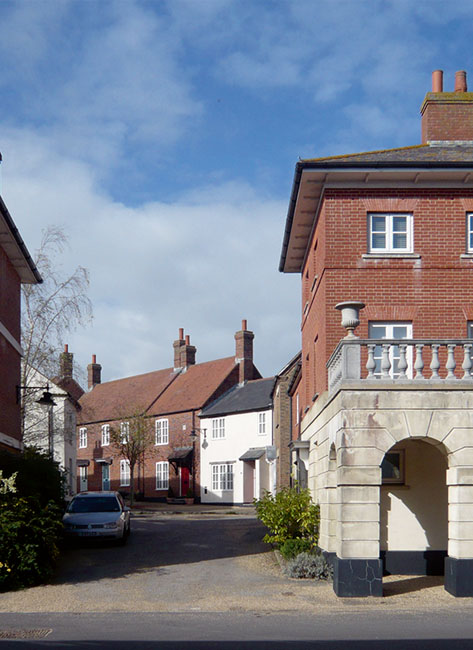 Downloads