Baumhäuser Berlin
Frei Otto, Hermann Kendel, et al.
Abstract
On the edge of Berlin's Tiergarten, hidden among stylish embassies and the postmodern architecture of the late 1980s, are three variegated clusters of stacked owner-built homes. They are the result of an intensive building and planning process that began in 1981, when Josef Paul Kleihues invited Frei Otto, surprisingly enough, to take part in the Berlin IBA in 1987. Surprisingly, because there was hardly any housing in Otto's portfolio and because he was not part of the postmodern avant-garde of the time, which dominated the Berlin IBA. Otto was primarily known for his phenomenal tent structures, such as that of the Olympic Stadium in Munich of 1972.
The first proposal was for a site in Kreuzberg, near the Wall (still in place at the time) and featured two towers that provided radical accommodation for about 50 owner-built homes within a concrete load-bearing structure with a core of stairwells, something Otto had previously conceived for New York in 1959. Because of the layout of a core with branching plateaus and a strong connection to nature by means of hanging gardens, Otto dubbed this concept a Baumhaus, or tree house. This initial design met with strong resistance, and the Berlin Senate banished the experimental project to the smaller, less prominent site of the former Vatican embassy, where construction did not begin until 1988. Building height had to be curtailed, and the volumes had to be positioned between the existing trees, which resulted in three Baumhäuser of six storeys each, which seem to have landed where they are by coincidence and of which two were ultimately realized as collective ownerconstruction projects.
The supports for the owner-built homes consist of oversized concrete table structures that provide open 'plots' for maisonettes. A collective participation process between the future owner-residents (18) and their individual architects (nine in all) determined how to fill this in. This social process was part of the ecological philosophy behind the project, but it also had an impact on relations among the participants and a smooth execution. Otto himself stepped out of the building process at an early stage. The government's strict, restrictive financing regulations, along with a lack of modular harmonization and zoning within the support system, led to a chaotic construction process involving various foreign contractors.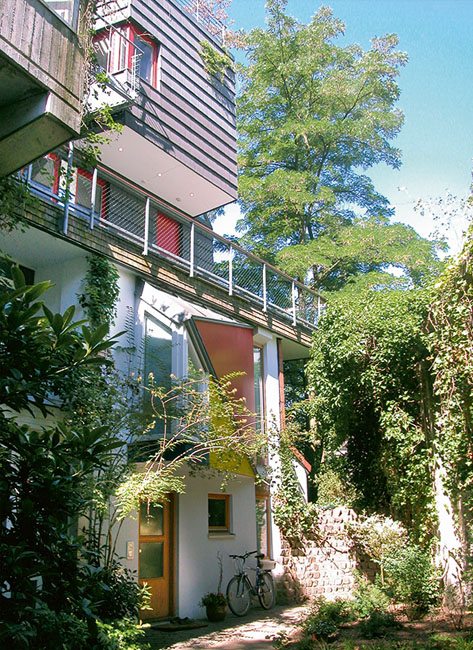 Downloads