Jacobs House 2 Middleton
Abstract
In 1936, during the Great Depression, Herbert and Katherine Jacobs asked architect Frank Lloyd Wright to design a house for them with a construction budget of only $5,000. Wright seized this opportunity to implement his ideas for an affordable home. The result, the brilliant Jacobs House in Madison, Wisconsin, designed down to the last detail, became, as the first 'Usonian', the start of a long series of Wright-designed homes. These Usonians (in 1927 Wright started using the word 'Usonia' to designate the United States of America) all vary in spatial organization, material use and details from the first Jacobs House. To Wright's dismay, the Jacobs sold the house six years after it was completed and moved to a farmhouse outside of town.
In late 1943 Wright presented them with a design for a new home to replace this farmhouse. The design was a linear version of the Usonian house, with a double-height living room and a stable connected to the house by a pergola. Herbert and Katherine Jacobs rejected the idea: the design was too expensive, the layout was too formal and the cold southwesterly wind had not been taken into account. An entirely different proposal followed in February 1944 – in Wright's own words, 'another first'. The most striking aspect of this design was the floor plan based on intersecting circles, a layout reminiscent of the design for the Guggenheim Museum, which Wright designed at the same time.
A curved house forming a third of a circle surrounds a round sunken garden. The blank stone outer wall is interrupted by a smaller round volume containing the stairs and sanitary facilities. The façade along the sunken garden is oriented to the south and entirely made of timber and glass windows and doors. This façade is also interrupted by a circular form: a round water basin that extends from the inside to the outside. An earth berm 4 m high was thrown up against the stone outer wall in order to protect the house from the wind. The front door, in the façade of doors and windows, is reached via a passage through the earth berm. The living space in the house is double-height. A mezzanine was inserted in the stone wall and then suspended from the roof by tension beams. This keeps the mezzanine level free of the full-height glazed south façade. The flat roof features wide eaves overhanging the glass doors and windows; in the summer this shields the interior from excess sunlight, while in the winter it allows the sun to penetrate deep into the house.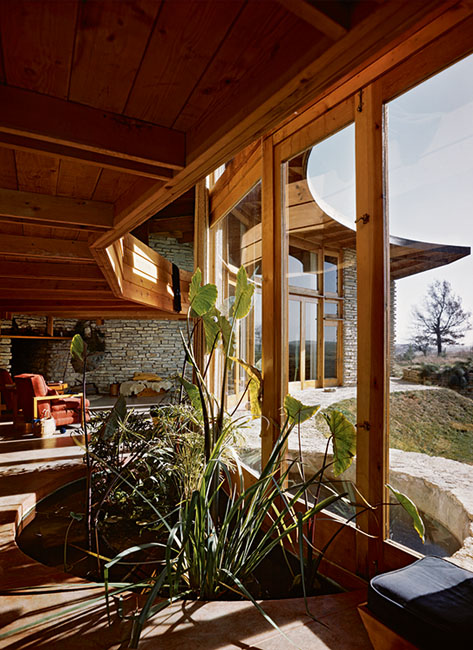 Downloads