The renaissance of post-war metropolitan planning in Melbourne, Australia 1949-1954
Abstract
This paper examines Melbourne's first statutory metropolitan planning scheme in 1954 in terms of its origins, production, promotion and reception. While a cautious trend-tidying template, it represented a landmark in Melbourne's planning history and established permanently a metropolitan planning apparatus at the state government level. Metropolitan planning initiatives in Australia before World War Two were few and far between. The scale of thinking, resourcing and implementation was beyond most state governments with a notable exception being the 1929 report of the Melbourne Metropolitan Town Planning Commission. This was shelved during the depression years but by the 1940s an active planning movement in Melbourne and development by major infrastructure agencies highlighted the need to revisit a coordinative metropolitan strategy and ensure it did not sit on the shelf. The agency officially charged with devising, promoting and implementing a new regional-scale planning scheme in 1949 was the Melbourne and Metropolitan Board of Works (MMBW), a legacy public utility from the 1890s. The paper examines the grafting of planning functions onto the MMBW and in particular the appointment of E.F. Borrie as Chief Planner. Two intertwined themes thread through the development and eventual marketing of the plan to the wider community and key stakeholders including local authorities and developers. One was an early retreat from visionary planning towards a more politically-pragmatic and business-like incrementalism. The second was the endeavour to secure broad citizen acceptance of the proposals through selling them as necessary common-sense solutions to emerging issues such as employment distribution, transport congestion, and open space provision. Key agents of the MMBW's propaganda campaign were a series of public exhibitions held in 1953-54 along with other public relations initiatives including endorsements from leading planners from overseas. The paper revisits these and other key events in the narrative to establish metropolitan planning oversight on a secure footing in Melbourne. The campaign proved successful. The MMBW was confirmed as Melbourne's regional planning authority in December 1954 and hence became part of the bureaucratic machinery of state government. From that point, planning debate shifted decisively from the general case of for and against to even more challenging and controversial issues of implementation.
References
Abercrombie, N. 'The Plan for Melbourne, The RVIA Bulletin, October-November 1953, p.9.
Amati, M. and Freestone, R. "All of London's a stage: the 1943 County of London Plan Exhibition," Urban History (2015), DOI: http://dx.doi.org/10.1017/S0963926815000498
Amati, M., and Freestone, R. "Trans-national promotion of British and American planning practice in the 1940s," Planning Theory and Practice, 15(3) (2014): 370-385.
Archbishop of York, "Town Planning in England: Difficulties in Execution," Australian Municipal Journal, 30(587) (1951) p.344.
Borrie, E.F. "Melbourne Metropolitan Planning Scheme Administrative and Planning Problems," Second Australian Congress of the Australian Planning Institute Melbourne 21st to 25th October 1952, Melbourne.
Dixon, F.E. "Town Planning in America: Some Lessons that might be Applied to Australian Development," Australian Municipal Journal, 7(140). (1927).
Dingle, T. and Rasmussen, C. Vital Connections: Melbourne and its Board of Works. Melbourne: Melbourne University Press, 1991.
Frazer, L.T. "Town Planning Notions of the Western World", Part two, Australian Municipal Journal, 20 May 1951, 30(591), p.521.
Grubb, M. "The 1954 Melbourne and Metropolitan Planning Scheme: Home Grown Product or American Import?," in T. Dingle, ed. The Australian City: Future/Past. Proceedings of the Third Australian Planning History/Urban History Conference, Melbourne: Monash University, (1996): 269-278.
Jessop, J.C. "Official Opening of the Congress." Second Australian Congress of the Australian Planning Institute Melbourne 21st to 25th October 1952, Melbourne
Logan, T. Urban and Regional Planning in Victoria, Shillington House, 1981.
Lubbock, J. "1947 and all that. Why has the Act lasted so long?" In I.B. Whyte, ed., Man-Made Future: Planning, Education and Design in Mid-20th Century Britain, London: Routledge, 2006, 1-16.
McLoughlin, B. Planning Melbourne's Future, Cambridge University Press, 1992.
Melbourne and Metropolitan Board of Works (MMBW), Melbourne Metropolitan Planning Scheme, Vol. 1, Report, Melbourne, 1954.
Mills. P. "Refabricating the Towers: The genesis of the Victorian Housing Commission's high-rise estates to 1969." PhD thesis, School of Philosophical, Historical and International Studies, Monash University, 2010.
Endnotes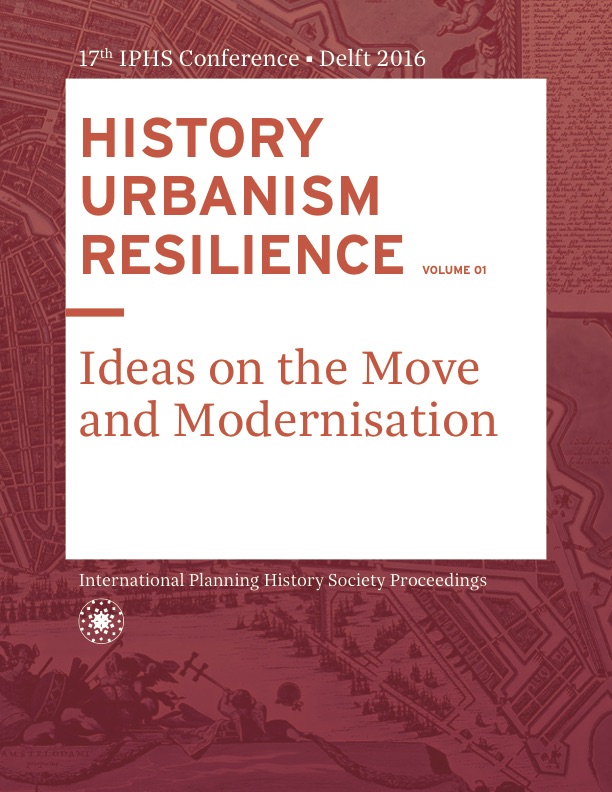 Downloads