Intermediate European Cities. Conditions Between Metropolis and Town
Working Group 2
Abstract
This article will discuss the conditions that define the intermediate European city at the beginning of the twenty-first century: the mid-size, other or secondary city as it many times appears in the relevant bibliography, although these terms fail to capture its full potential. We argue that the intermediate European city cannot simply be defined by parameters like population number, territorial extension, or other forms of scale. Instead, we propose an interpretation through categories of conditions from various scientific disciplines covering different perspectives, as provided by our network members. These conditions suggest a systematization of phenomena commonly manifested in the urban contexts under examination. The article aims to get closer to defining what an intermediate city is or is not, concluding with the concrete illustration of seven selected conditions: scale as a commodity, gravity, perceptual coherence, open-ended image, walkable distances, parochial realm and against fragmentability. 
References
Joseph Amato, On foot: A history of walking (NYU Press, 2004).
Marc Augé, Non-lieux: Introduction à une anthropologie de la surmodernité (Paris: Seuil, 2004).
Neil Brenner, New State Spaces: Urban Governance and the Rescaling of Statehood (Oxford: Oxford University Press, 2004)
Jon Calame and Esther Charlesworth, Divided Cities: Belfast, Beirut, Jerusalem, Mostar, and Nicosia (Philadelphia: University of Pennsylvania Press, 2009)
Gerard Duc, Oliver Perroux, Hans-Ulrich Schiedt and Francois Walter (eds.), Transport and Mobility History. Between Modal Competition and Coordination (Editions Alphil., 2014).
Ann Forsyth, 'What is a walkable place? The walkability debate in urban design', Urban design international 20 (2015): 274-292.
Klaske Havik, Kris Pint, Svava Riesto and Henriette Steiner et al. (eds.),Vademecum: 77 Minor Terms for Writing Urban Places (Rotterdam: nai010 publishers, 2020).
Lyn H. Lofland, 'The Morality of Urban Public Life: The Emergence and Continuation of a Debate', Places 6/1 (1989), 18-23. Joseph A. May, Kant's Concept of Geography and Its Relation to Recent Geographical Thought (Toronto: University of Toronto Press, 1970).
Bruno Notteboom, Klaske Havik and Michiel Dehaene, 'The Mid-Size City as a European Urban Condition and Strategy', OASE 89, Medium: Images of the Mid-Sized City (nai010publishers, 2013).
Norman J.G. Pounds, 'The Ruhr Area: A Problem in Definition', Geography 36/3 (1951), 165-178.
Rebecca Solnit, Wanderlust: A history of walking (Penguin, 2001).
Achille Warnant, Les Villes moyennes sont de retour (Paris: Fondation Jean Jaurès, 2020).
Saskia I. de Wit, Hidden Landscapes: The Metropolitan Garden as a Multi-sensory Expression of Place (Amsterdam: Architectura & Natura Press, 2018).
Jonathan R. Zadra, Arthur L. Weltman and Dennis R. Proffitt, 'Walkable distances are bioenergetically scaled', Journal of Experimental Psychology: Human Perception and Performance 42.1 (2016): 39.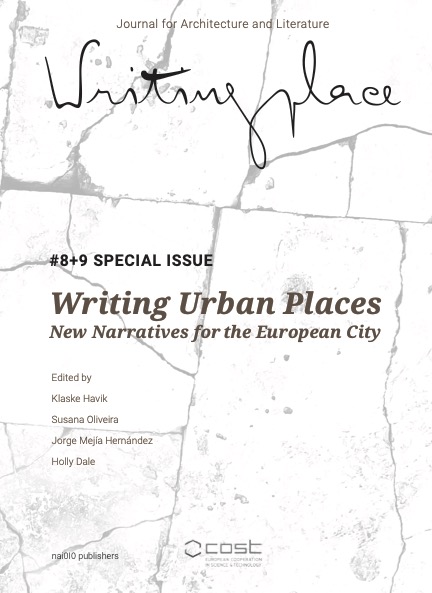 Downloads
License
Copyright (c) 2023 Angeliki Sioli, Sonja Novak, Giuseppe Resta
This work is licensed under a Creative Commons Attribution 4.0 International License.