Port call information sharing and inter-organizational relationships: an exploration
Abstract
Ports have been taking major steps to improve information sharing for supporting their port call services. Despite the strong aspiration for this improvement, progress is still slow. In this paper, we argue that the progress is hampered by the challenges of an inter-organizational nature. To explore this argument, we conceptualize the link between inter-organizational relationships and information sharing in ports. We use and operationalize the partnership model, which was originally proposed for the supply chains, for the port context. We test the applicability of the model for the port of Rotterdam. Data was collected using desk research, expert interviews and surveys amongst all port actors.  We find that potential for inter-organizational relationships varies substantially between the port actors, which implies an unequal potential for information sharing between them. While some actors show potential for strong relationships, in which two-way frequent exchange of information is supported, others could only support basic, occasional, or unbalanced information sharing. Therefore, it is unrealistic to assume that the information can be uniformly exchanged between all the actors. Instead, we suggest tailored information-sharing strategies that fit to actors' business interests and characteristics. We conclude that this salient aspect of inter-organizational relationships between port actors should be acknowledged and considered for the effective design of port development strategies.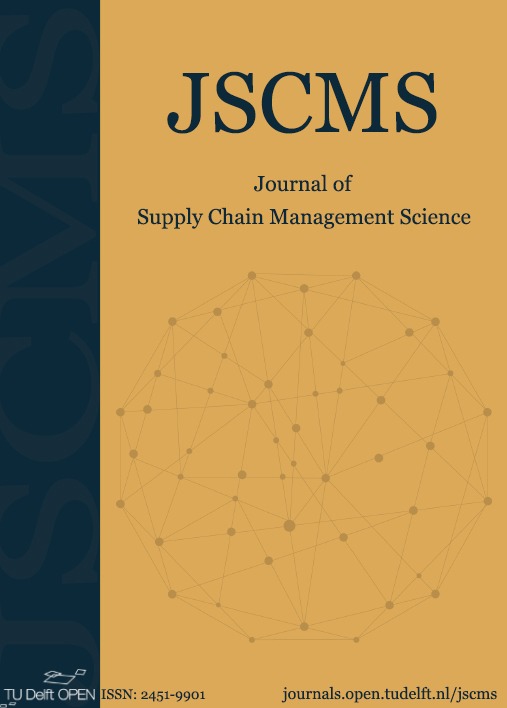 Downloads
License
Copyright (c) 2022 Journal of Supply Chain Management Science
This work is licensed under a Creative Commons Attribution 4.0 International License.
JSCMS is licensed under a Creative Commons Attribution 4.0 International (CC BY 4.0) licence. The license means that anyone is free to share (to copy, distribute, and transmit the work), to remix (to adapt the work) under the following conditions:
The original authors must be given credit
For any reuse or distribution, it must be made clear to others what the license terms of this work are
Any of these conditions can be waived if the copyright holders give permission
Nothing in this license impairs or restricts the author's moral rights